Housekeeping
If the manner in which a guest is welcomed by the Front Office department signifies how hospitable the staff would be, the work of the Housekeeping department offers a glimpse into what one may expect the rest of the hotel to look like. The Housekeeping department in a hotel is responsible for the cleanliness, maintenance and the aesthetic upkeep of the property. Just as guests wish to walk into a spotless property, they like being welcomed into a room that is comfortable, clean and conveniently arranged. The intention of this department is to offer a 'home away from home.'
There are many job categories within this department and it is likely that you would not have seen many of them during your stay as a guest. Remember, the more rooms the hotel has, the bigger the department.
Jobs Roles and Responsibilities in the Housekeeping Department
Industry veterans share their insights from a career in housekeeping.
Watch Video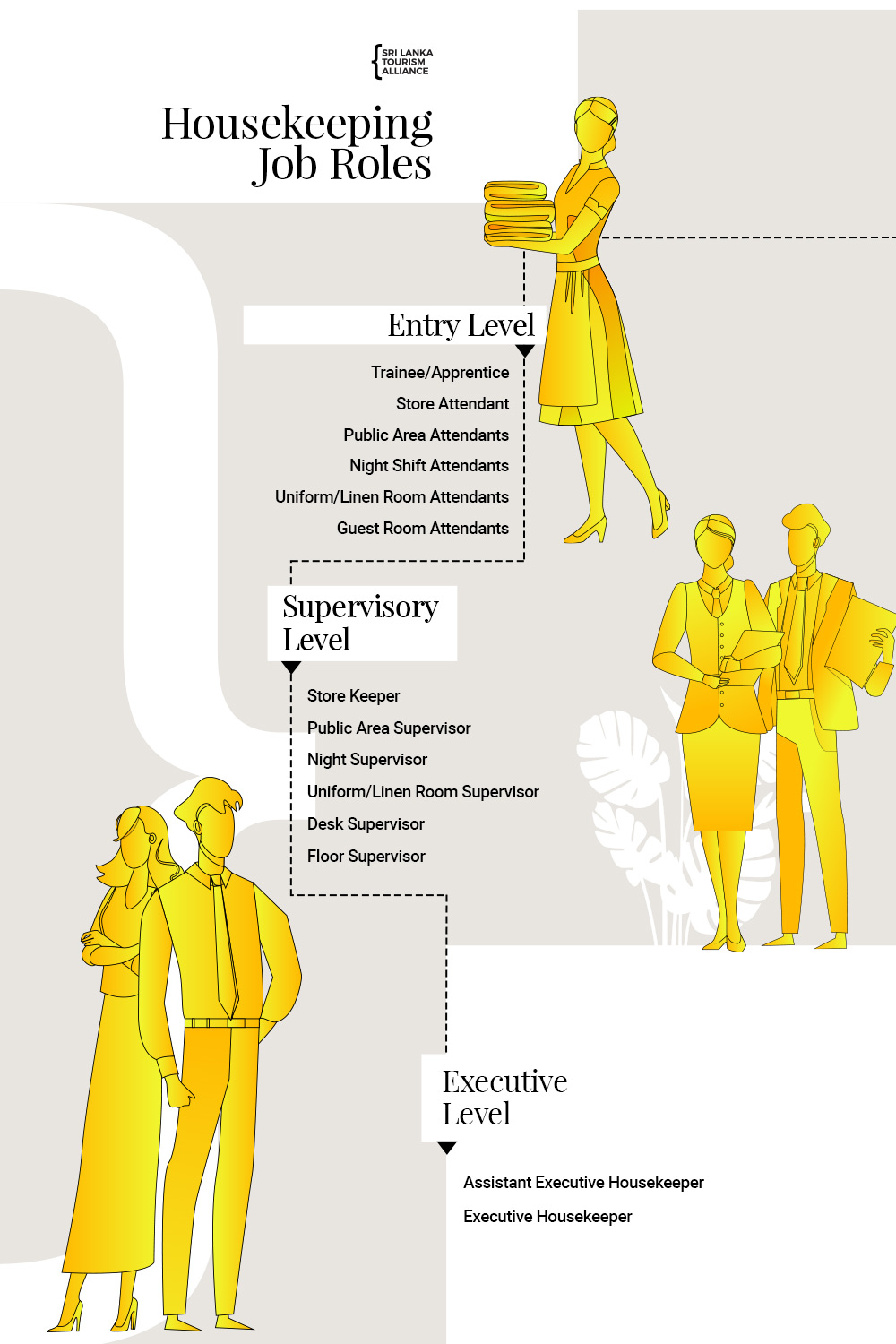 Job Roles
Entry Level
Trainee/Apprentice: In this department staffers deal with a lot of chemicals that are used to disinfect and clean spaces, as well as machinery such as floor polishers among others. It may be difficult for a newcomer to grasp all of this in one day. It is likely that you would be in training for at least three months.
Store Attendant: Reports to the store or floor supervisor. Their main duty is to keep an inventory of cleaning equipment such as detergents and bathroom amenities and to make a requisition to purchase new items.
Public Area Attendants: The public areas of the hotel are spaces that are frequented by guests. This person must ensure the reception, lobby, corridors, lifts, parking spaces are kept clean and smelling fresh. They report to the public area supervisor.
Night Shift Attendants: This person will perform housekeeping duties during the night and help troubleshoot hotel safety issues to the night supervisor.
Uniform/Linen Room Attendants: This person segregates dry linen according to its type and sends it to the laundry. Keeps an inventory of the linen while stacking towels, bedsheets, pillowcases, into shelves. This person also collects uniforms and maintains them for next use.
Guest Room Attendants: Reports to the floor supervisor. They clean guest rooms, bathrooms and corridors, arrange linen, top up guest room supplies, make beds and replenish the hotel cleaner trolley with supplies.
Supervisory Level
Store Keeper: This person needs to know if the stores are well stocked. He will check with the store attendant to ensure that the stores have all necessary amenities.
Public Area Supervisor: This person needs to ensure that there are enough staff to help with the upkeep of the property. He or she will inspect the public areas including the coffee shop, gym, swimming pool, restaurant, banquet hall, lobby, lifts and parking and ensure they are well maintained.
Night Supervisor: Takes over at night and must ensure that guests' provision of water and other amenities are available. He/she will also ensure that there is sufficient operating staff at night and oversee overall cleanliness of the hotel.
Uniform/Linen Room Supervisor: He or she should inspect linen, send it for laundry or ironing and maintain a registry.  Must provide clean, ironed uniforms, suggest procurement and keep track of the condition of the uniform.
Desk Supervisor: This person is in charge of the lost and found unit of the Housekeeping department. He or she will coordinate with other supervisors and managers in the event an item is found or if the owner contacts the hotel.
Floor Supervisor: Issues keys to the room attendants, coordinates floor operations, inspects rooms for readiness and reports status to the Front Office. Caters to VIP arrivals and facilitates their stay.
Executive Level
Assistant Housekeeper: This is an executive or managerial level position because it comes with supervisory duties while requiring effective communication and organizational skills. This person conducts thorough inspections, will look over worksheets and schedules, assist the hotel to organize events for its in-house staff, ensure protocols are followed and speak to guests when needed.
Executive Housekeeper: This executive manager is the chief of the department. He has to ensure overall cleanliness, aesthetics, training of newcomers, establish standard operating procedures for cleaning and decorating, monitor regular inventory, evaluate employee performance, present an estimate for a budget to the General Manager.
Career Progression 
Housekeeping is a physically demanding job that requires many tasks. You need to first prove that you are proactive and have the attitude it takes to survive in this department. If you find yourself tired after making a few beds, this department may not be for you.
Promotions
If you are willing to put in the effort, career progression is fairly easy. You may need to work at an entry level position for at least a year before being considered for a supervisory position. At a supervisory level, you will have more tasks and responsibilities with many staffers working under you. You may have to work between 1 and 3 years at this level. Once you reach the level of an assistant, it will be easier to progress. If a Managerial position becomes vacant, it is likely that you will be considered.
Knowledge & Skills
Knowledge
While you are expected to have some level of English proficiency to work in the hospitality industry, if you feel you are not yet confident enough, you may try for an entry position within the Housekeeping department. Just like any other department, however, you need to have completed your schooling to qualify.
Entry Level
A minimum of Ordinary Level qualification is a must. If you do not have this (but are still within the right age group), you can pursue foundation level programs that may last between one and two years to make up for it.

A basic certificate or diploma in housekeeping is necessary, as this job is physically demanding and requires the acquisition of certain skills. You may have been making your bed your whole life, but when it comes to a hotel, it is done a different way and takes practice to learn. You can learn the necessary skills through courses offered by vocational training institutes under the Tertiary and Vocational Education Commission (TVEC).
Supervisory Level
It is not possible to start your career at a supervisory level if you don't have any prior experience and the necessary educational qualifications. If you have worked at bigger properties it is likely that you will be considered for a promotion at smaller or boutique hotels. But if you have worked mostly at smaller properties, you may need to start at an entry level position at larger hotels.

Overseas experience in similar positions will be an added advantage.
Executive Level
Years of experience and a diploma from a reputed institute recognized by TVEC will help you qualify for an executive position.
In addition to experience and qualifications, age too plays a significant role in determining suitability for an executive level position. Your level of maturity is very important as you may have to deal with many staffers, troubleshoot human resource problems, in addition to other duties.
Your temperament, your problem-solving skills, your attitude and your personality are key factors to be considered for positions in this level.
Skills
Housekeeping hard skills
Excellent problem-solving skills
Ability to multitask
Good knowledge of equipment and amenities
Strong time management
Attention to detail
Self-directed and motivated
Hiring Process
It is likely that your interview will be conducted by the Human Resource manager, who will look over your CV and direct questions about your prior experience or educational qualifications. If you are applying for an executive position you may need to detail in your resume (and verbally) the organisations you have worked at, the skills you have learned and the milestones you have achieved. If you have been awarded certifications or accolades, make sure to mention those in your resume.
Salary Scales
Like all other entry level positions, the starting salary is basic. Keep in mind that it is a physically demanding job and you will have to work at least a year before you can progress. At an entry level you may take home between Rs.15,000 to Rs.20,000. You may also get a percentage of the service charge, but that would depend on the type of hotel, demographics, size etc.
At a supervisory position you are likely to take home between Rs.20,000 to Rs.30,000 basic salary. This figure may increase when coupled with other allowances which the hotel would offer along with service charges.
At a managerial level, you would earn upwards of Rs.30,000. This will again vary depending on the hotel and your responsibilities
Women in Tourism
Let her learn, let her explore, let her see the world
Sri Lanka's tourism industry offers a number of career opportunities for women. Here's a glimpse into some of them.
Watch Video