Front Office
The Front Office, traditionally known as the reception, is the most visible department of the hotel. It is the guest's first impression and all staffers must ensure that guests feel welcome and valued. The next time you visit a hotel, notice how the staff are attired differently and how architecturally pleasing the reception area is.
While the Front Office may seem inviting to guests, it is one of the busiest places to work. The responsibilities include welcoming guests and tending to their needs, giving the best impression of the hotel, resolving issues, while handling other tasks including switchboard, accounts, cashier and night audit, front desk, concierge and guest relations.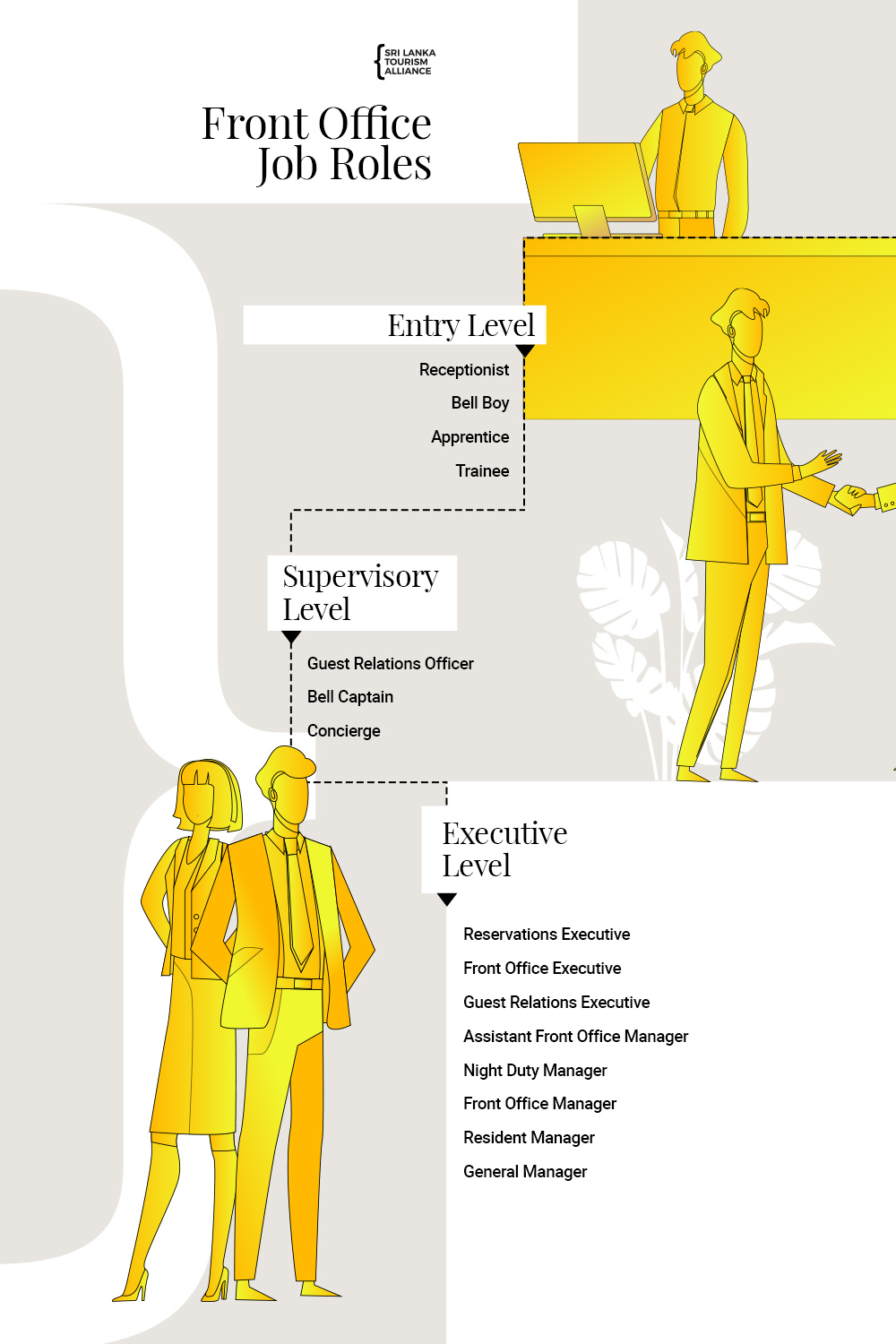 Job Roles
Entry Level
Receptionist: Responsible for greeting visitors, answering calls, addressing guests' concerns and providing an overall welcoming environment.
Bell Boy: The Bell Boy is generally the first to greet and welcome guests, while relieving them of luggage. At smaller properties, they may also show guests to the rooms. They work under the Bell Captain.
Apprentice/Trainee: This individual is someone who is still learning the various functions of the Front Office while on the job.
Supervisory Level
Guest Relations Officer: In addition to welcoming guests, a Guest Relations Officer would also handle guest complaints. Often, they would know guests by name and speak to them whenever they see them.
Bell Captain: The Bell Captain manages the hotel's bell staff, assigns duties and sets work schedules. Will report to the Concierge.
Concierge: The Concierge is not assigned to a desk but will always be on hand, ready to help any guests who need advice. Often, guests go to the concierge to ask for information regarding the hotel and its environs (sightseeing/airport, etc.).

Executive Level
Reservations Executive: The responsibilities of this position include dealing with all email, telephone, online and in-person inquiries in an efficient and polite manner. Also required to record all reservations according to the organisation's established procedures. 
Front Office Executive: This is a managerial position because the executive needs to have the experience to do both clerical and administrative work, including sorting mail, filing and entering data, in addition to Front Office work.
Guest Relations Executive: Primary responsibilities include welcoming guests during check-in and handling guest concerns and complaints efficiently. Also required to oversee the arrival and departure of VIP guests.
Assistant Front Office Manager: Will assist the Front Office Manager, ensure that all hotel guests receive prompt attention, and take care of Front Office operations.
Night Duty Manager: Responsible for all hotel operations during overnight shift hours. In addition, he/she is required to overlook the hotel's Front Office operations, ensure guest and hotel security, conduct the night audit, and maintain a high quality of service.
Front Office Manager: Managing and training the staff, while ensuring the front desk provides a professional service. They deal with customers, handle complaints and emergencies.
Resident Manager: The Resident Manager lives at the hotel. They are always on-call and are required to assist the General Manager to maintain the smooth running of the hotel, while also ensuring the property is profitable. In certain instances the Resident Manager and General Manager are one and the same. 
General Manager: The General Manager is responsible for all hotel operations and the daily management of guests as well as staff. The General Manager overlooks the property's management team and ensures that the overall targets of the hotel are met. He/she is focussed on delivering an excellent guest experience.

Career Progression
The Front Office department is one of the busiest, yet easiest departments to climb up the ladder of success in the hotel industry. If you are serious about a career in the hotel and tourism sector and wish to be a manager someday, and if you are a people person and known for your ability to tackle issues, this might be the department for you.
Promotions
If you are starting at the entry level you may be put on probation or training for six months before being assigned duties. Once you've made it through, it will take between six months to a year for the next promotion. Often times in hotels, promotions depend largely on vacancies and availability. If you are lucky you may progress sooner than you thought.
Other key indicators that factor into your promotion are punctuality, honesty, flexibility (handling pressure/multitasking), temperament (are you always moody), people skills (are you approachable).
But most of all, your performance is key. You need to make sure that you have a good understanding of what is expected of you and work hard to meet those expectations. If your performance is not positive or if you have not contributed well, it will work against you.

Knowledge & Skills
Always remember that your skills are different from your educational or professional qualifications. Education is what you know about the subject matter from an academic perspective, while skills help you perform your duties.
Knowledge
Before looking at the knowledge and skill set that you need, it must be stated that one of the foremost requirements for the hotel trade in Sri Lanka is a sound knowledge of the English language. English is a universal language and is widely used in Sri Lanka as well. Therefore, even local guests often tend to speak in English first. This means that a grasp of the language is important to work in this sector. If you are not proficient in English, it shouldn't discourage you, as there are plenty of courses that can help you learn basic English for the hospitality sector.  English will not only be important to you in this field, but any field that you wish to excel in.
Entry Level
A minimum of Ordinary Level qualification is a must. If you have an Advanced Level, it would be an advantage. But if you do not have either, you can always pursue a vocational course which you will find in the 'courses' section of this website.

Courses are categorized into National Vocational Qualification (NVQ) levels offered by vocational training institutes under the Tertiary and Vocational Education Commission (TVEC). For the Front Office you may apply starting with your Ordinary Level.

Supervisory Level
To start your career at the supervisory level you will certainly need some prior experience in an entry level role in the Front Office. A few years of experience will help you. An added qualification that would help is a vocational course, either certificate or diploma level. There are also craft courses which are targeted at the specific departments which you will find under the courses tab.

Executive Level
If you have years of experience and a diploma from a reputed institute recognized by TVEC, it will help you aim for an executive position. Bear in mind that you really need to prove your worth by demonstrating how you have contributed in your previous places of employment and highlighting what your previous employers say about you. Unlike at the supervisory level, you will have to detail how you led your team. This should also be clearly indicated in your resume. Take note that at the executive level, there will be many staffers working under you and you need to have exemplary leadership and problem-solving skills.

Skills
Effective written and verbal communication
Be neat and well groomed
Problem solving
Ability to stay calm under pressure
Organized and detail oriented
Strong interpersonal skills
Ability to work flexible schedules
Computer literacy

Hiring Process
If you have applied to work in a hotel, it is likely that you will be interviewed by a panel of individuals. While we may not know who or how many individuals will be at the interview, the Human Resources or Human Capital Manager will definitely be in attendance. In their absence the Assistant manager will take his/her place. This interviewer will look through your resume and ask you questions based on your prior experience. They are well trained to spot lull years or gap years and may question you on those. They will also ask you how long you have worked in each organisation or why you are leaving the last place of work. If it is your first job, the interviewer from HR may want to know about your ambitions.
The other interviewers will look at various aspects, as they may have been given a set of criteria to assess you on. Don't be offended if cleanliness or how you present yourself is judged. It matters in the hotel trade. If you have impressed all the interviewers you can expect a positive outcome, but if you haven't and the interviewers tell you that they will call you, don't feel dejected. It is likely they wish to speak to others who applied before reaching a decision. At times you may have to go in for a second or even third interview.

Salary Scale
Working in the Front Office department of a hotel requires long hours, hard work and staying calm in difficult situations. But if you are willing to work hard, if you are passionate and determined, then you should definitely consider this as an option.
Salary scales for the Front Office vary depending on the type, size and location of the hotel and how many guests it can serve. In Sri Lanka, the starting salary is around Rs. 10,000 to Rs. 15,000. You will also get a percentage of the service charge. Before you move on to the supervisory level you should be taking home a salary of Rs.25,000 to Rs. 30,000.
At the supervisory level, you will take home a salary in the range of Rs.30,000 to Rs.35,000, without any service charge. There may be other deductions like EPF etc. in keeping with labour laws in Sri Lanka.
At the executive level you will fetch a higher salary in the range of Rs.35,000 to Rs. 40,000. Again, this will depend on some of the factors mentioned earlier such as the size, type and location of the hotel. At this level you will also get a higher percentage of the service charge.
What is Service Charge?
If you have friends or family in the hotel industry and they are receiving higher salaries than mentioned here, it is very likely that they are receiving a good service charge. Service charges are non-tip wages and it belongs to the employee. You may get anywhere from 5 percent to 30 percent or even a full 100 percent. Make sure to ask what that percentage will be when you are landing the job.
Women in Tourism
Let her learn, let her explore, let her see the world
Sri Lanka's tourism industry offers a number of career opportunities for women. Here's a glimpse into some of them.
Watch Video