Kitchen Department
The Kitchen department is a sub-department of the Food and Beverage operation of a hotel. It deserves special mention because some supervisory and executive positions are occupied by highly skilled individuals. They are also well paid and headhunted by the best! This may sound like a very enticing career option, but bear in mind that it takes many years of hard work and passion to excel in this area.
The food production department, commonly called the Kitchen department, involves the preparation of food, while the delivery is done by the F&B department. The food production department consists of the main kitchen (hot & cold), banquet kitchen, soup section, pantry section, pastry section, baking & confectionery.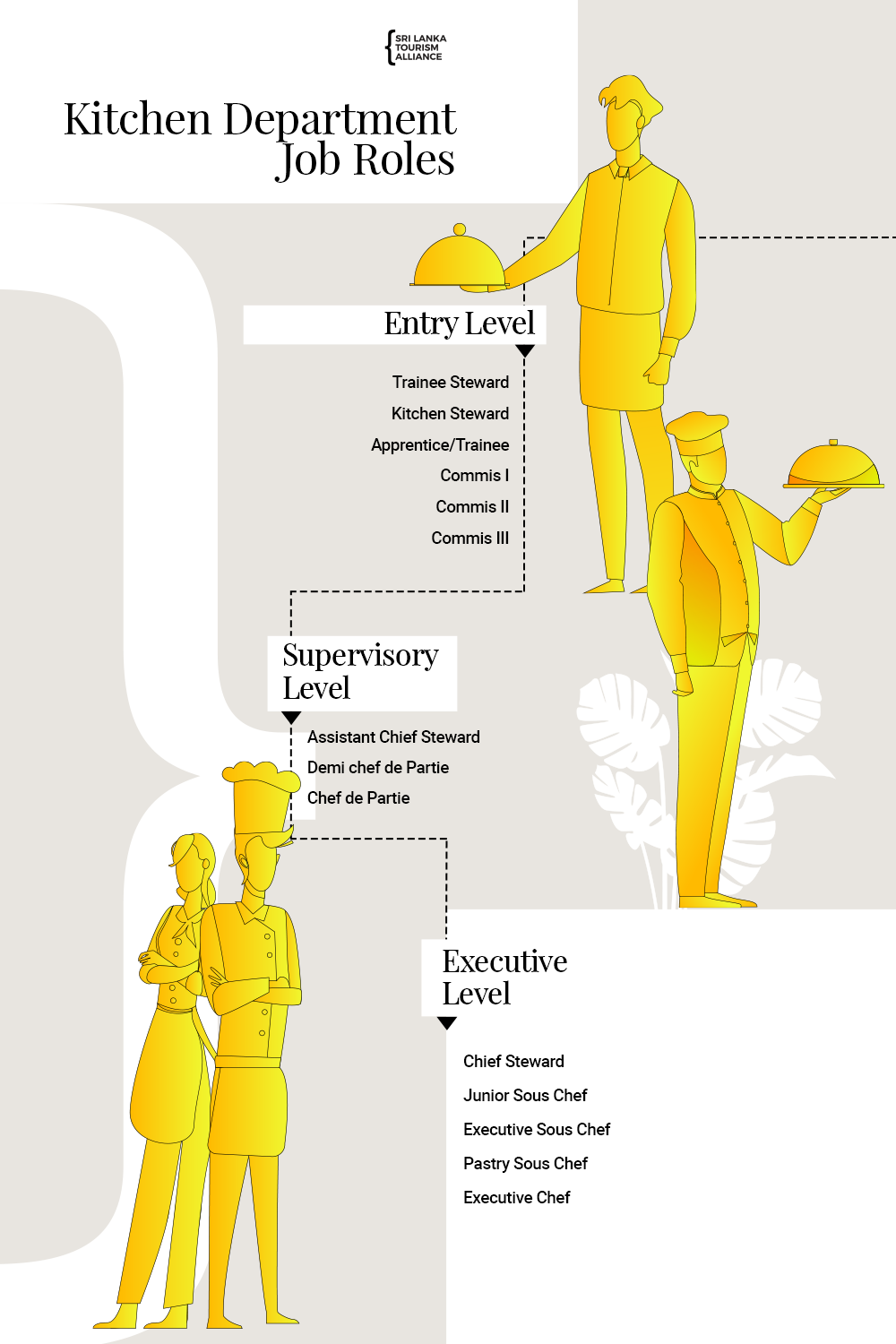 Job Roles
Entry Level
Trainee Steward:  A trainee is someone who is still learning to assist in keeping a restaurant and bar clean and sanitary, in cleaning dishes, and tending to customers' needs. 
Kitchen Steward:  A Kitchen Steward helps a restaurant with cleaning and restocking tasks, ensuring that all kitchen areas are sanitary and supplies are available. 
Apprentice / Trainee:  Helps a Chef prepare and cook dishes while training to be full-time chefs themselves. They also oversee food supplies in refrigerators and storerooms, clean and serve food.
Commis I: The Commis I Chef prepares food and ensures a courteous and professional service in keeping with operational standards. Is also responsible for assisting the Sous Chef in cooking and ensuring all stations are clean.
Commis II: A Commis II is responsible for daily food preparation and duties assigned to meet the set standard. Will also support the Demi Chef de Partie or Commis I.
Commis III: Prepares section mise en place, assists the Chef De Partie in his duties to ensure that all food is served. Will also assist Commis II and Commis I. 

Supervisory Level
Assistant Chief Steward: Manages the inventory of all equipment, crockery, cutlery and glassware. Also manages the stewarding team in order to ensure a clean and safe working environment for the F&B team.
Demi chef de Partie: A Demi Chef de Partie is responsible for the preparation and cooking of food. Assists in all areas of the kitchen for breakfast, lunch and dinner. Ensures the kitchen areas are clean and tidy.
Chef de Partie: A Chef de Partie oversees a specific section of the kitchen. This could be either the butchery, pastry, fish, vegetable, sauces kitchens. This position is sometimes referred to as line cook or station chef. In larger kitchens, the Chef de Partie is usually assisted by a Demi-chef de Partie, Commis or Trainee Chef.

Executive Level
Chief Steward: Coordinates the activities of the pantry and storeroom, supervises non-cooking kitchen workers, purchases supplies and equipment. Also inspects kitchens, workrooms, storerooms and equipment for cleanliness.
Junior Sous Chef: A Junior Sous Chef is an assistant to the Sous Chef. Therefore, they are responsible for many of the same duties and responsibilities, such as inventory, food preparation and staff management.
Executive Sous Chef: This individual will assist the Executive Chef with overall operation. It is up to him to ensure guest satisfaction, organise, direct and also control kitchen operation and administration work.
Pastry Sous Chef: Should act as a mentor to the kitchen team responsible for pastries and desserts. Supports the Sous Chef with the management of the wider kitchen. Plans out the week, handles rotas and assigns duties to the team.
Executive Chef: The Executive Chef is in charge of the daily operations of hotel and restaurant kitchens. Their duties include hiring, training and overseeing kitchen staff.  Also known as Chef Manager or Head Chef.

Career Progression
Unlike certain departments in the hotel trade, there is no easy path of progression in the Kitchen department. If you begin at the entry level with an Ordinary Level qualification, you will need to acquire many more skills to progress to supervisory or executive level positions. Not all skills required can be self-taught. You will often find that Executive Chefs have studied and trained at culinary schools.
Promotions
Promotions within this department are linear. You can progress from a Trainee Steward to an Assistant Chief Steward, but not a Sous Chef. This is because of the different sets of skills required for each position. As mentioned earlier, you would require expertise, additional knowledge and a lot of experience in order to become a Chef. Upon entering this field, you need to decide if you want to progress to the position of Chef or Steward. Once the decision is made, you will need to constantly keep learning and pushing yourself to work hard.
When you have some experience and expertise under your belt, you may become a member of the prestigious Chefs Guild. Chefs also participate in culinary competitions, both locally and internationally.

Knowledge & Skills
Knowledge
If your ambition is to become a Chef, and if you are still pursuing your higher education, consider working at a restaurant or hotel in the position of a Steward. The first step to entering this department is not only a sound education, but experience as well. Many hotels are likely to hire you as an apprentice.
Entry Level
You still need to have completed school and your Ordinary Level Examinations, after which you can pursue a culinary certification, which can be obtained through courses offered by vocational training institutes under the Tertiary and Vocational Education Commission (TVEC).

Supervisory Level
You need to have completed a basic certification or diploma in either hotel operations and management or culinary school in order to reach the supervisory level. However, this alone will not suffice, as you will need to demonstrate at least 1 or 2 years' experience of having worked across various positions.

If you are intent on becoming a Chef, then you need to keep learning and aspiring. A basic diploma in hotel operations will not be sufficient, and you will need to specialise in an area, such as culinary art.

Executive Level
Those who aspire to become Executive Chefs in restaurants can pursue a Bachelor's degree in Culinary Arts. These programs not only teach you how to cook, but also how to manage food service establishments, as they explore business elements such as financial and inventory management and purchasing.

If you intend on pursuing a degree in culinary art, you would have the opportunity of hands-on training supervised by professional chefs in kitchens, which would give you the experience you need.

Skills
Desire to learn
Culinary expertise
Attention to detail
Excellent customer service
Business sense including admin, budgets, costs
Impeccable cleanliness
Creativity
Work under pressure
Think on your feet
Self-starter
Take initiatives
Leadership

Hiring Process
Just like other departments in the hotel trade, your resume, your past records and recommendations will be useful when applying for a job in the Kitchen department. HR Managers will scrutinise every position you have held before, and if you are a school-leaver, it is very likely that you will be placed on probation for a few months before being assigned any tasks. It would be wise to speak to others who are already working within these departments in hotels or other establishments in the hospitality sector before you get into it as well. Neither the pay nor the job are glamorous at the start, so it is best to know what you are getting into before you make a decision.

Salary Scale
The starting salary for a trainee or a steward is generally between the sum of Rs.15,000 and perhaps Rs.25,000. On the plus side, you work according to a roster, which means you will get days off. You will also get a service charge which would increase your salary.
Once you reach a supervisory level, your pay will increase, along with your list of duties and responsibilities. You may get a higher percentage of the service charge than entry level employees. You are likely to earn anything from Rs.30,000 to at least Rs.45,000.
At an executive level, your salary will more than double. That is not only because of experience, but also because of expertise. Your salary will be influenced by what you bring to the table as a Chef, and how you are going to help the establishment profit. By the time you reach the executive level you may have acquired many years of experience, you may have even worked overseas.
Women in Tourism
Let her learn, let her explore, let her see the world
Sri Lanka's tourism industry offers a number of career opportunities for women. Here's a glimpse into some of them.
Watch Video