Food & Beverage Services
In the hospitality industry, the food and beverage department reigns supreme. The Front Office staff can be exemplary and the property the most beautiful, but if the food and beverage service is not up to mark, it's very unlikely that guests would return to the hotel. The Food and Beverage department, commonly referred to as F&B, is the largest element of the hospitality industry and plays a vital role in the profitability of a hotel. The F&B department is best suited for the creative spirited because every day brings a new challenge.
What does an average day look like in the Food and Beverage Department
The Food and Beverage department offers many opportunities to those that are looking to expand their horizons. Here's a glimpse at what to expect.
Watch Video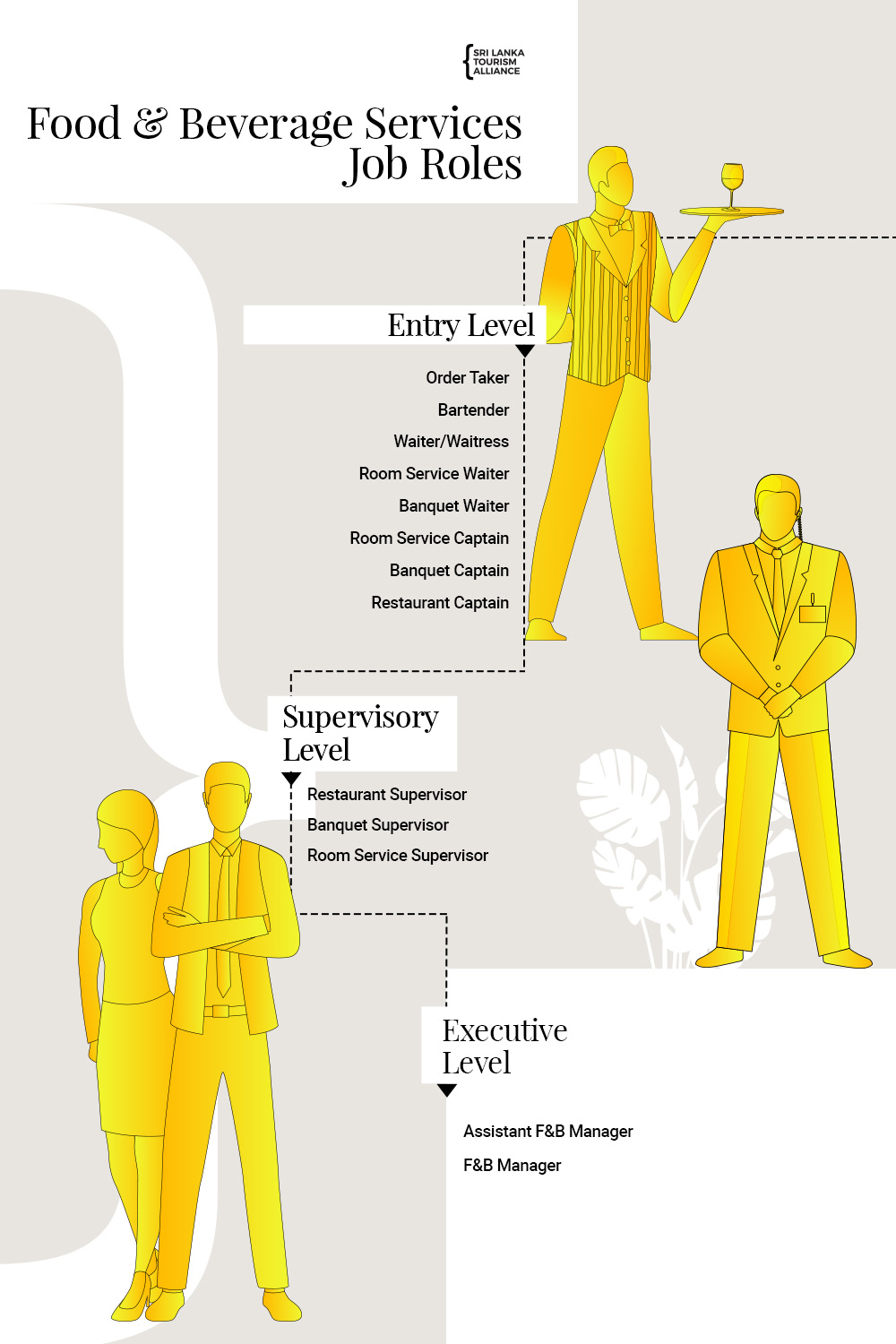 Job Roles
Entry Level
Order Taker: as the name suggests this person takes food and beverage orders from guests. Depending on the restaurant, they may take down notes or key it in a device. Either way, guests would often ask for recommendations and they should be able to advise guests accordingly.
Bartender:  Bartenders mix, garnish and serve beverages to customers. They are also known as barkeeps or mixologists. Bartenders work at a variety of restaurants including bars, clubs, resorts and casinos. They tend to work weekends, late hours, and even on holidays.
Waiter/Waitress: A waiter, also known as a server, works to create a positive experience for guests in a restaurant by meeting their needs. They make recommendations and answer questions and manage complaints.
Room Service Waiter: This person is responsible for preparing orders, setting trays and delivering items to guest rooms in an attentive and efficient manner.
Banquet Waiter: Banquet servers are roaming non-standard waiters and waitresses. Banquet servers are responsible for accommodating guests at functions, anticipating their needs and responding to their requests.
Room Service Captain: Ensures that guests have a satisfying in-room dining experience. He/she is responsible for monitoring the setup, hygiene, maintenance and efficient delivery of F&B services to guests. 
Banquet Captain: A Banquet Captain manages an entire banquet staff to ensure the high-quality execution of large receptions and events involving food service. He or she also serves as a liaison between the banquet service staff and the kitchen staff and assists in management operations.
Restaurant Captain: This position is also referred to as the Chef de Rang. Primary responsibilities include supervising restaurant functions and communicating between kitchen and wait staff. Also required to ensure the restaurant maintains a pleasant appearance and is clean and hygienic. 
Supervisory Level
Restaurant Supervisor: The Restaurant Supervisor will overlook the operations of a restaurant in order to ensure that it runs smoothly. He/she will supervise and train restaurant staff, ensure that food health and safety regulations are carefully followed, and also deal with customer complaints.
Banquet Supervisor: Oversees all functions of a banquet or event, including the venue set-up, presentation and serving of food and beverages, and cleaning up after an event. Is also responsible for training and supervising banquet staff.
Room Service Supervisor: Also referred to as in-room dining manager.  Assists in organising, managing and administration of all in-room dining functions.
Executive Level
Assistant F&B Manager: Assists the F&B Manager in ensuring that the department is working at its capacity. In the absence of the Manager, the Assistant Manager takes charge of the kitchen staff, assigns duties and makes sure that the work takes place in an orderly manner. The Assistant Manager's work is no less than the work of a manager. They have to ensure that the customers are receiving excellent services for food and beverages.
F&B Manager: Responsible for the operations of all restaurants in a hotel. They are responsible for ensuring that food and drinks are of the highest quality. They handle customer complaints, create company policies, and comply with food and safety regulations. They are also required to prepare reports and budgets.
Career Progression
It is fairly easy to progress in the F&B department, provided you are dedicated, hard-working and have good communication skills. If you excel in your early years at the entry level, you could end up in a managerial position in your 30s. As mentioned earlier, working in the F&B department can be interesting but equally challenging.
Promotions
The F&B department usually has a higher employer turnover compared to other departments because employees are always looking for the next promotion within the hotel or outside. If you are a quick learner and if you are passionate about serving, it will not take you long to progress. But if your employee track record is replete with issues such as unresolved complaints, untidiness or absenteeism, it will take you longer to progress. If you speak to some of the best hoteliers out there who are in hierarchy positions, it is likely that they were once dishwashers or waiters.
Knowledge & Skills
Knowledge
It is essential to have a knowledge of English, as you will be directly interacting with guests. Whether you are a waiter or a manager, guests will approach you, regardless of where you are within the hotel premises, and seek your assistance. If a complaint arises you need to be prepared to resolve it confidently and swiftly.
Entry Level
A minimum of Ordinary Level qualification is a must. If you do not have this (but are still within the right age group), you can pursue foundation level programs that may last between one and two years to make up for it.

A basic certificate or diploma in Food and Beverage is necessary as this job is physically demanding and requires the acquisition of certain skills. You might have noticed how waiters carry many plates or how bartenders are so skilled. They did not learn it on their own, it is likely they had training. The best place to start is to complete a course in Food and Beverage service offered by vocational training institutes under the Tertiary and Vocational Education Commission (TVEC).
Supervisory Level
If you are new to the hotel industry, it will be hard to start at a supervisory level right away. There is a lot to learn and much of the learning is on-the-job. You would need to have a few years of experience in the F&B department in order to join a hotel at a supervisory level.

If you have any overseas experience in similar positions at hotels, it would work in your favour.

A diploma in tourism, hospitality, event management or F&B service is a must.
Executive Level
If you have many years of experience and a diploma or a degree from a reputed institute recognized by TVEC or the University Grants Commission, an executive position will be within your grasp.

Bear in mind that not only do experience, past employee records and educational qualifications come into play at this level, but your age also matters. Your level of maturity is very important as you may have to deal with many staffers, troubleshoot human resources problems among other duties.

Your temperament, your problem-solving skills, your attitude and your personality go a long way in making you a suitable candidate here. There could be instances where a guest complaint could appear to be trivial or unreasonable, but it could be an important issue for the guest. In instances such as this, it would not bode well for a manager to get angry and react negatively. The handling of the situation would impact the reputation of the entire hotel.
Skills
Being able to stand and walk for long periods of time
Being able to lift heavy items on occasion
Providing excellent customer service
Comprehensive knowledge of supplies, equipment, services and food
Detail oriented
Patient
Friendly
Service oriented
Flexible
Hiring Process 
Unlike other departments, Human Resource Managers take a keen interest in your resumes and letters of recommendation. Employers need to know that the person they are hiring would be an asset to the organisation, particularly since employees within this department are always exposed to guests. You will be judged on how you present yourself at the interview, how well you are groomed, your level of confidence, your attitude and career goals. If you are aiming for a supervisory or executive position you may be interviewed by a panel. But if you are looking for an entry level position, you may only meet the HR manager.
Salary Scale
Like all other entry level positions, the starting salary is basic. Keep in mind that it is a physically demanding job and you would have to work for at least a year before you can progress. At an entry level you may take home between Rs.15,000 to Rs.25,000. You may also get a percentage of the service charge, but that would depend on the type of hotel, demographics, size etc.
At a supervisory position you are likely to take home between Rs.25,000 to Rs.35,000 basic salary. This figure may increase when coupled with other allowances which the hotel would offer along with service charges.
At a managerial level, you would earn upwards of Rs.40,000. This will again vary depending on the hotel and your responsibilities.
Women in Tourism
Let her learn, let her explore, let her see the world
Sri Lanka's tourism industry offers a number of career opportunities for women. Here's a glimpse into some of them.
Watch Video