Wellness Tourism – What Do We Need to Know?
The COVID-19 pandemic has forced us to stop and evaluate our personal health, lifestyle and habits, and brought to the forefront the need to focus more on our overall wellbeing. This focus on self-care is expected to continue to grow and will alter and influence the trajectory of wellness tourism, as wellness experiences see increased demand from travellers in the post-COVID world.
As much as tourism authorities and individual properties will soon want to push the wellness angle, it is important to try and understand what potential customers will expect, if we are to truly capitalise on this opportunity. Sri Lanka is well poised to take advantage of this situation, with our centuries' old traditions of wellness in terms of Ayurveda and Hela Wedakama. While wellness is not new to us, we still need to understand what consumers are seeking to ensure that we are creating products and offerings that can cater to all types of wellness travellers.
The Sri Lanka Tourism Alliance recently spoke to Katherine Droga, Chair of the Global Wellness Institute's Wellness Tourism Initiative and Founder of the Wellness Tourism Summit. Katherine is passionate about the transformational effect travel can have for individual travellers, local communities and the planet, and is committed to building transformative wellness experiences.
Below are excerpts from the discussion with Katherine on what wellness tourism means in its broadest sense, and how Sri Lanka can cater to the growing global demand for it.
Q: How would you define the components of wellness and wellness tourism from a global perspective?
A: The Global Wellness Institute (GWI) defines Wellness as the active pursuit of a state of holistic health. This includes physical, mental, spiritual, emotional and social wellbeing. Wellness Tourism is defined by GWI as travel associated with the pursuit of maintaining, enhancing or kickstarting one's personal wellbeing.
The practical level components of wellness include, a connection to nature, fresh local cuisine, quality accommodation, spa services, outdoor activities, mindfulness, natural therapies such as Ayurveda, as well as a connection to local culture.
Q: What's the best way to categorise wellness travellers?
A: The Global Wellness Institute splits wellness travellers into two categories based on their underlying trip motivation.
Primary wellness travellers – their main reason for travel is their wellbeing, i.e. the trip is all about wellness experiences. Therefore, their destination choice and where they stay will be chosen based on the wellness offering.
Secondary wellness travellers – this group are travelling for a general leisure or business trip, but want to include a wellness experience as well. Although their reason for travel is not primarily motivated by wellness, they make a conscious decision to add a wellness experience to the trip. This could for example be a hike or other nature-based experience, a spa treatment, yoga or meditation session. The bulk of wellness travel spend globally is in fact from secondary wellness travellers (89% of trips and 86% of spend).
Primary and secondary wellness travel are equally important to a country or region that is building its wellness offering. Secondary wellness travellers can eventually become primary wellness travellers as their interest in wellness grows. And primary wellness travellers often switch to be a secondary traveller based on the type of trip they are taking.
Q: What do wellness travellers look for in a destination?
A: Post COVID-19, more and more wellness travellers are looking to de-stress and boost their wellbeing focus during their trip, and they are looking for destinations that offer products and experiences that let them do this.
When deciding where to go, wellness travellers look for authentic destinations that connect with their own unique identity and flavour, natural resources, culture, history and traditions. Sustainability is increasingly becoming a factor or key consideration also.
Destinations need to celebrate and build upon their culture, ancient healing traditions, natural environment and cuisine to create wellness experiences that differentiate them from the rest.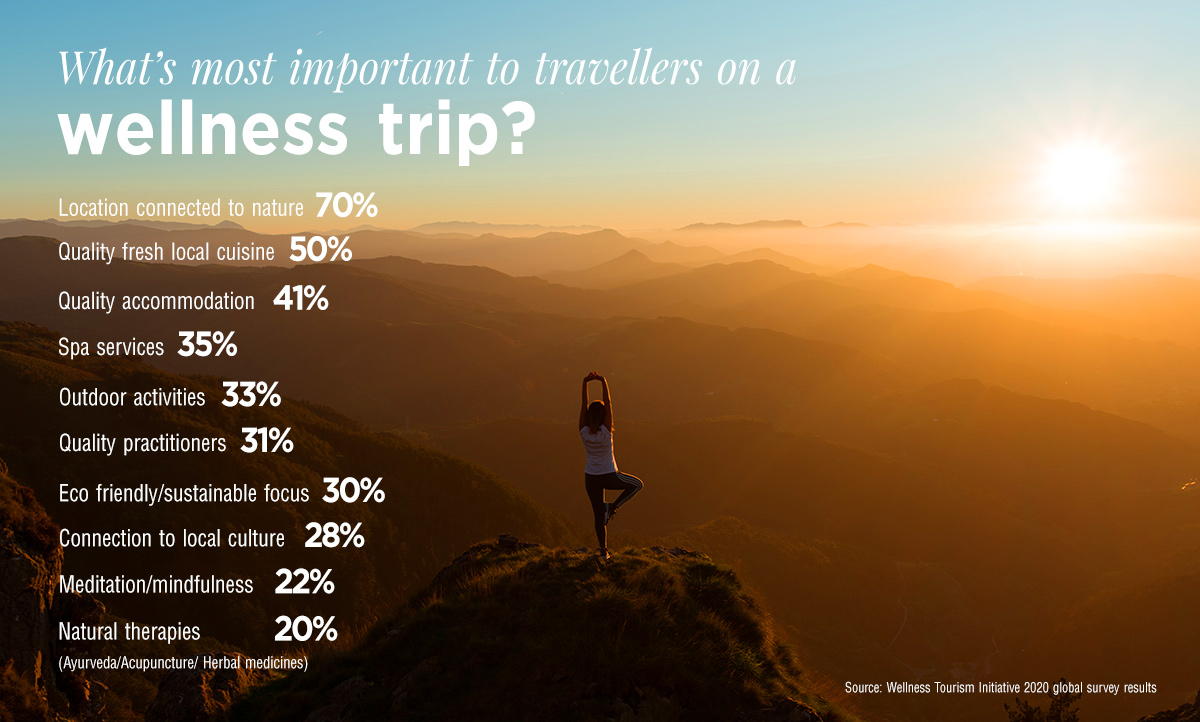 Research has shown that wellness travellers are more skewed towards a flexible wellness journey with 58% saying they prefer a semi-structured wellness program and only 11% saying they prefer a fully structured program.(Wellness Tourism Initiative 2020 global survey results – UNDERSTANDING WELLNESS AND LEISURE TRAVEL). This comes back to the concept of choice for the visitor. Travellers continue to seek more and more personalized experiences when they travel and being able to choose what wellness offerings suit their needs at any given time will continue to be important.
Q: How has COVID-19 impacted wellness travel?
A: Wellness travel expenditure was growing at twice the rate of regular travel expenditure before COVID-19 hit us. The predictions were of average annual growth of 7.5% in expenditure to 2022, which would have meant that global wellness expenditure tourism would have grown by 44% in only five years. Wellness tourism was expected to reach over $919 billion by 2022, representing a record 18% of the global tourism market.
However, the pandemic has shut our world down, making us retreat into our homes, and forcing us to put travel on hold for at least a while longer. It has not been an easy time for many, be it financially, mentally or emotionally. It is becoming increasingly more evident that when people are able to leave their homes and travel once again, they are going to be looking for ways to boost immunity, become healthier and improve their mental health. I believe that wellness travel will no longer be considered a niche market in this new world we find ourselves in. Our Global Wellbeing Survey conducted over the past four weeks found that:
55% respondents expect their focus on their own wellbeing to increase (even greater in India and Australia)
42% say intention for wellness travel will increase post COVID-19
87% intend take a trip in the next 12 months, with 76% of those people intending to include a wellness and 11% having a primary focus on wellness.
People are looking for transformational experiences, to return home changed emotionally, physically, mentally and spiritually for the better.
Q: What should Sri Lanka's wellness strategy be, especially in order to capitalise on the pent-up demand?
A: Sri Lanka needs to develop an end to end wellness strategy. There is currently not a huge amount of global consumer awareness for Sri Lankan wellness experiences and in my opinion, this type of travel is the single biggest new opportunity for the country at this moment.
The key is to understand what global consumers in Sri Lanka's key source markets (UK, Germany, Australia, China, USA) are seeking with regard to wellness travel and then match this with what is unique and special about Sri Lanka.
Sri Lanka has an untapped, authentic competitive advantage to harness the ancient traditions of local Hela Wedakama and Ayurveda but most importantly to extend that offering to encompass wellness travel experiences that connect with the country's amazing nature, food and people.
The roadmap to get there would involve focussing on both demand and supply. From a supply point of view, you need to educate, inspire and ignite the local travel industry to understand the true value of wellness travel, so that they get behind this segment. You need to develop skills and formally train more practitioners and therapists. You need tour operators to create more wellness experiences packages and also accommodation providers and attractions as well.
From a demand perspective, the right branding, positioning and marketing of the destination from a wellness perspective will help generate global consumer demand. Individual businesses will also need to share their amazing Sri Lankan wellness offerings with the world and invite them to come and experience them now.