Supporting the Transformation of Sri Lanka's Tourism SME Sector
Interview with Randhula de Silva, Founder CEO of Good Life X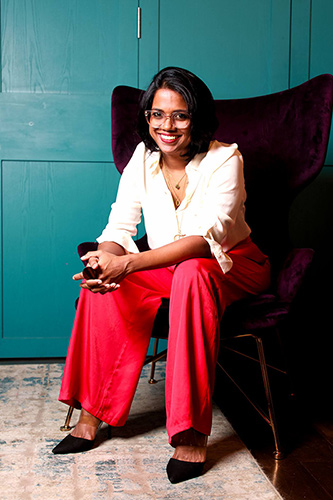 Sri Lanka's tourism industry is one of the most diverse sectors in the country if you consider the fact that it is made up of a mix of large corporate entities, family-owned businesses, small and medium enterprises and entrepreneurs. Furthermore, it is an industry that makes a significant contribution to the country's economy and employment. However, the sector needs to consistently keep up with the demands and expectations of modern travellers, if Sri Lanka is to remain competitive and relevant as a travel destination in a changing world. While larger organisations may have the necessary exposure, knowledge and networks to transform and evolve as needed, the same cannot be said for smaller players in the sector. That's where organisations such as Good Life X come into the picture.
Good Life X supports start-ups and mature SMEs in Sri Lanka in scaling their products and services, improving internal and external processes and expanding reach. The organisation has identified travel as a focus area and has been engaging in a number of initiatives to uplift SMEs and foster entrepreneurship. Good Life X's Enterprise Evolver program for enterprises in the tourism sector, as well as the Grants for Tourism Resilience program, which was conducted together with the Tourism Alliance, are examples of the work they are currently involved in. In May 2020 Good Life X facilitated the Crisis Flexibility Challenge – a competition that invited tourism companies to use their existing resources and people to make a short-term pivot, in order to stay afloat during the pandemic period.
In a recent conversation with the Tourism Alliance, Randhula de Silva, Founder CEO of Good Life X spoke about the need to equip and enable entrepreneurs and SME businesses so that they can transform and sustain their operations independently, while creating value for the community and country. Below is an excerpt from the conversation.
Q: What does Good Life X hope to achieve in Sri Lanka?
A: When Good Life X began its operations in Sri Lanka back in 2018, with the backing of GIZ, we intended to take a different approach to integrate technology and innovation into traditional sectors. We worked with organisations in the booming IT industry and assisted them to merge their solutions and innovations with more traditional sectors in Sri Lanka. These traditional sectors are inherently based along traditional value chains, and we realised that although they are desperately in need of innovation, they have not been getting the right type of support.
This is why we began to work with businesses in sectors such as food and agriculture, wellness and travel, as well as businesses based on the concept of circular design. We used the experiences and insights gathered while working with the start-up ecosystem to merge with these businesses and give them the best possible chance to succeed by embracing transformation.
This is our vision, and how we work to achieve it is through our cyclic programs such as our Accelerator program dedicated for startups, and our Garage program aimed at working with SMEs. These tailor-made programs allow us to work with companies from both the tech and traditional sectors and help them to work together and transform.
We are also now ready to cater specific services to companies determined to embrace sustainable transformation regardless of where they are in their journey of growth. However, it is also necessary to highlight that we don't just work with any organisation. It is important to us that the companies we work with have strong values within their business, in addition to having objectives to make the business more sustainable. It is important to us that they are creating value through their product or service, for their end consumer and for the people attached to their value chain, in terms of improving their lives, or are ready to make that radical transformation.
Q: Why does Good Life X focus on entrepreneurship?
A: Across the recent history of Sri Lanka, the country's growth has been defined and led by the private sector; by entrepreneurs who were driven to create change – for their companies, their workforces, for communities and the economy at large. It is why we believe that a private sector led growth stimulus is the way forward for Sri Lanka – to embrace the growth and potential that our nation really holds within itself.
Sri Lanka is blessed with so much in terms of natural resources, vegetation, biodiversity, forestry and water resources. However, it takes a lot of vision, passion, perseverance and understanding to create economic opportunities out of these high-value resources. We have to be attuned to market requirements and market trends, in addition to making a conscious effort to thrive with these resources sustainably so that we don't exhaust them. This is a massive conversion globally, although it is still in its early stages here in Sri Lanka.
I think for our country, the shift towards these concepts need to happen through the private sector because they have the interest, the capacity to innovate, the direct learnings, and access to consumers who are creating these trends globally. It is the fastest way for us to leapfrog into the future, and that is why we choose to work with entrepreneurs.
We have diversified our way of working by looking at new and young entrepreneurs through our startup program, and also looking at mature entrepreneurs who have knowledge and experience but who need mechanisms and tools to reinvent their businesses. We work with both segments, trying to connect them with each other, so that they can draw strength from each other.
Q: In your opinion, what is the potential for tourism in Sri Lanka?
A: I think the focus of many organisations for many years has been on creating only one form of support for the industry. There are programs in place to provide funding and resources, but SMEs and entrepreneurs are expected to flourish, without real direction or guidance on where to focus their energy. And that's where the gap is. But it is a gap that entities like the Tourism Alliance and Good Life X can fill by bringing in knowledge, insights and direction, which enables businesses and communities to know how to make use of opportunities and reach their true potential.
Sri Lanka's tourism sector, which is an active contributor to the country's economy, has gone through many phases. 25-30 years ago, what was popular among travellers arriving in the country was resort tourism and planned excursions. But this has now changed. Many travellers today are looking for exciting, authentic opportunities which allow them to truly experience a destination and its culture. They want to engage and interact with the community directly, experience the way of life and culture, enjoy excursions and activities that are unique to the destination. The demography of the traveller coming to Sri Lanka has changed, what they are looking to achieve from travel has changed. In the same way, what local communities can offer in terms of experiences and activities to travellers has also evolved over the years, and there is opportunity to improve further.
We have some larger, high-end companies that cater to specific tourism segments such as nature, wellness, culinary and conservation. But is that enough to meet the demand? What about the travellers who want to immerse themselves in the destination and connect with the community across all budgets and visitor types? Are the people on the ground ready to cater to them and their needs? It is clear to us that there are many opportunities available to communities and entrepreneurs who are willing to work closely with tour operators and DMCs to create unique and authentic experiences that cater to the modern traveller. If we can channel the energy and passion in the communities, show them the opportunities to earn an income using their surroundings to create experiences based on what they have, etc. we can truly make a change.
I firmly believe that funding, facilities and government support is not all that's important. There is a great deal of value that we can create for these groups by helping them to understand and see the potential to create income earning opportunities for themselves. We need to step in and show them that there is a demand for the type of product and experience they can offer, and also show them how to package and sell it to the right audiences. There is a very obvious gap between the demand (from travellers) and supply, and this is something we need to address.
Q: Where does the responsibility lie in bridging that gap?
A: I don't think the responsibility lies with any one group or institution, but in all citizens of this country. Authorities like the SLTDA will obviously have more influence and power to effect change in terms of policies, regulations, etc. But that doesn't mean that organisations such as ours, or individuals on their own, can't make an impact. We are smaller, but concentrated and futuristic enablers and amplifiers. We can contribute significantly in terms of identifying opportunities and taking steps to drive transformation.
I think that it is important to have a clear vision for the country's tourism sector and communicate it to everybody involved, from the chairperson of a large DMC to a tuk tuk driver who offers rides to foreign travellers. There needs to be a big picture vision where everybody who is part of the sector can be plugged in. I also believe that everybody who has a vested interest in tourism should contribute to this vision in a participatory way. It is good to have a decentralised group of people harnessing this vision and strategy for Sri Lanka's tourism sector. And then, it's in the hands of all of us to make it work. Entities like Good Life X and the Tourism Alliance, who are enablers, can take the grand scale vision and translate it into more meaningful and practical engagements.
I would also like to add that external factors like the pandemic, April 2019 attacks need to be taken into consideration, as they are unforeseen and unexpected. We cannot be taken completely off guard again. We need to have measures and alternative strategies in place to deal with crisis situations. That needs to be part of the vision.
Q: What are the key sub-sectors that we need to focus on right now?
A: As the severity of the pandemic reduces and travel restrictions begin to ease with time, we don't really know what type of travellers Sri Lanka will immediately attract. However, we do know that the world has accelerated its intentions towards sustainability during the pandemic period. The urgency for the country's tourism sector to be a lot more sustainable has increased along with this.
I think we need to concentrate on creating experiences and opportunities for travellers to experience things closer to nature and the community, giving importance to Sri Lanka's authenticity. Knowledge has to be shared with people who are on the ground. They need to know what the focus should be so that they can create and develop products and offerings that make sense in terms of the demand.
Q: What do you think are the key challenges for tourism SMEs?
A: The overall challenge all SMEs are facing right now is a lack of economic activity. Even those who have been cleared for Level 1 still have the challenge of not being able to accommodate local travellers while being open to foreign travellers. In the short term, we need to look at how that burden can be eased, while adhering to health and safety requirements.
Another key challenge SMEs face is navigating technology and digital transformation. Consumers are moving towards digital interactions to connect with destinations, to learn about experiences on offer, to interact with accommodation providers and hosts and to even make bookings. The question is, are small-scale providers equipped to cater to these digitally savvy travellers? The inability to transform digitally as fast as the world expects is a very real problem that many SMEs face. Part of the work we do helps SMEs in this area, connecting them with vendors and experts who can help them provide a more digitized service.
Q: Is the Government doing enough to support entrepreneurship in tourism?
A: I am well aware that any Government can only do so much. In our context, I think that it is important for the Government to listen to the private sector with regard to the need for policy changes, supporting growth, stimulus in the SME/ entrepreneurship sector, etc. The key is to listen to their needs and meet them where they are. The Government also needs to be more proactive instead of reactive, in my opinion. They need to look for opportunities that have not been tapped, create trends, and make decisions that enable entrepreneurship.