Sri Lanka's Wildlife Tourism Offering – Where Do We Stand?
Many of us in the tourism industry believe that this time of forced closure and respite due to COVID-19 would be in vain, if we have been unable to re-look at our core tourism offerings and work towards improving them, while also developing new opportunities and experiences that will help us compete more strongly in the South Asian region.
One area of tourism that has been extensively spoken about, with regards to needing reform, is Sri Lanka's wildlife tourism sector. While the country is undoubtedly placed in a marvellous position in terms of forests, natural habitats and diverse species of wildlife that appeal to travellers, there is still much that needs to be done to improve the wildlife tourism offering and make it more sustainable.
Countries such as South Africa, Botswana, Costa Rica and Australia have set the benchmark for successful wildlife experiences. Looking at their natural resources and how they have developed products to attract high-value travellers gives us an indication of the direction Sri Lanka too should be moving in.
The Sri Lanka Tourism Alliance recently had the opportunity to speak to two wildlife enthusiasts who believe that conservation and tourism go hand in hand.
Srilal Miththapala is a committed environmentalist, wildlife enthusiast and tourism industry veteran. His professional career has taken him from the position of General Manager at Riverina Hotel, to CEO of Serendib Leisure and to the current position of Director at Laugfs Leisure. His passion lies in the natural world, and he is a keen contributor to the wildlife research space.
Radheesh Sellamuttu is the Founder and Managing Director of Leopard Trails, a bespoke tented safari experience that promises a world class and professional guided and hosted experience. Radheesh is passionate about curating innovative products and experiences that can position Sri Lanka as a sought-after wildlife tourism destination. He is also well travelled through Africa and runs an outbound safari company that tailor makes itineraries to Africa.
They both believe that Sri Lanka has great potential in this space, provided that we put in more effort to develop, conserve and productize our natural resources sustainably.
Outlined below are some of the insights shared by Srilal and Radheesh regarding four key areas that Sri Lanka needs to develop, if we are to sustain our wildlife resources and attract more high-value wildlife enthusiasts to the island.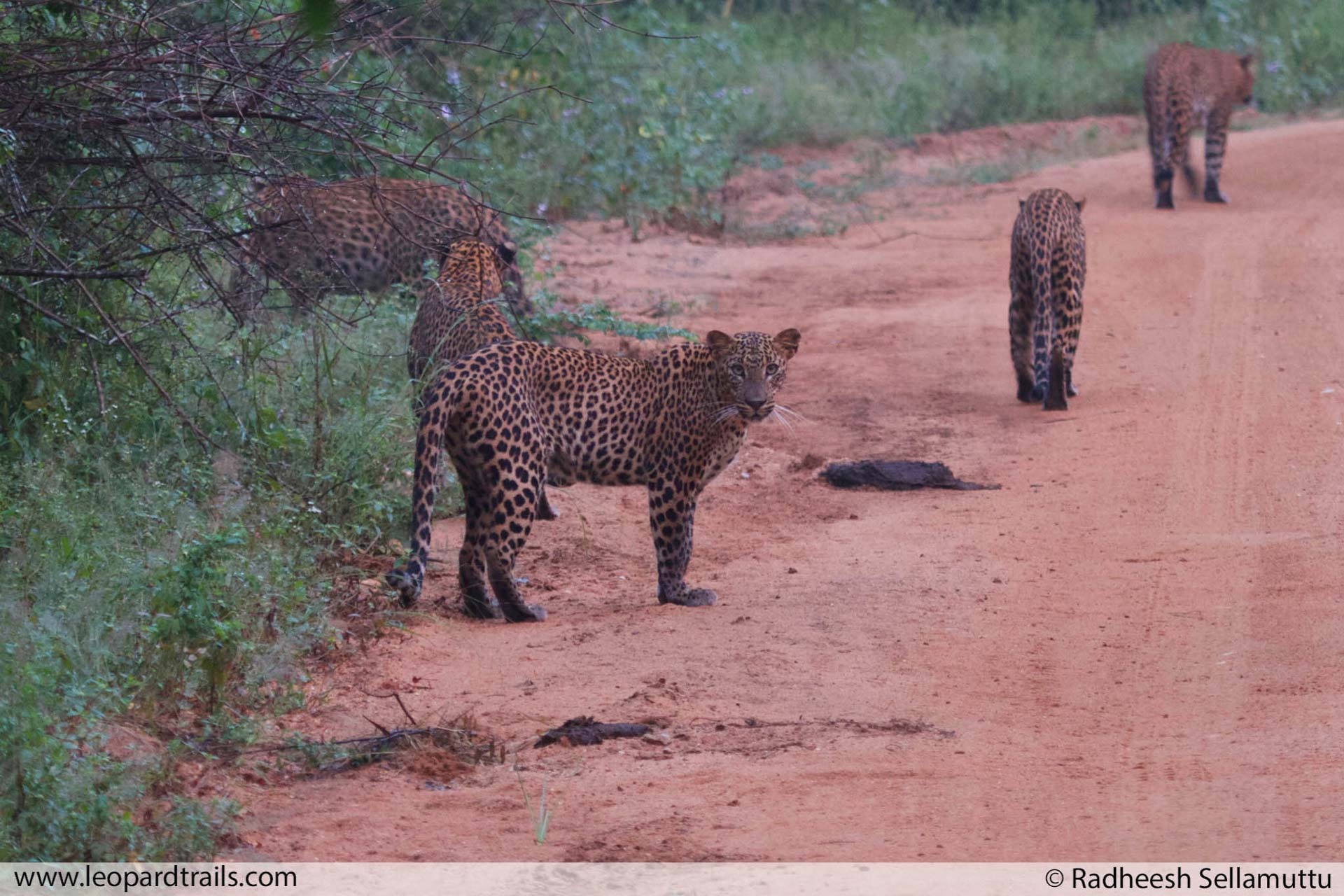 Image Credit: Radheesh Sellamuttu, Leopard Trails
Managing Visitors – The Need for Expansion
There is no doubt that wildlife tourism has gained momentum in Sri Lanka, with approximately 47% of all foreign visitors to the island visiting a national park in 2018. However, since much of this traffic is concentrated in just a few of the island's national parks, namely Yala, Udawalawe and Wilpattu, overcrowding has become a highly contentious debate that has significant repercussions on the wildlife.
Expanding Road Networks within the Parks
Even within these parks, visitation is permitted only in specific areas and access is controlled by the road networks developed and maintained by park authorities. In the Yala National Park, most visitors use block 1, however, the road network does not cover the whole of this area. As Radheesh points out, expanding the road network to encompass more of block 1 and blocks 2, 3, 4, and 5 will immediately ease the congestion of safari jeeps. He adds that in the Wilpattu National Park, all jeeps need to proceed on a 12 km long stretch of road before they can branch out to by-roads, bar a couple of new roads. On a busy day, this means there would be a procession of about 100 jeeps all travelling down one road. It is not surprising that the park would appear unnaturally congested and even unpleasant at times.
Developing Parks for Visitation
Yala, Udawalawe and Wilpattu are the most visited parks in the country by both locals and foreign travellers. And as Sri Lanka's wildlife tourism offering garners more attention and interest from travellers, the number of visitors will only keep increasing. Radheesh believes that we can change this situation by developing some of the country's other nature reserves for visitation. Having conducted a number of reconnaissance trips to Maduru Oya National Park, he argues that it can be developed into an alternative option to Yala and Wilpattu as there are plenty of signs of leopard activity, in addition to other mammal species. Other national parks such as, Wasgamuwa, Kumana, Flood Plains and Somawathiya and many reserves under the forest department all have similar habitats to Yala and Wilpattu, making them great alternatives for visitors. In addition to easing the congestion on the popular parks, developing these areas will also help bring in investors, create job opportunities and help in community development.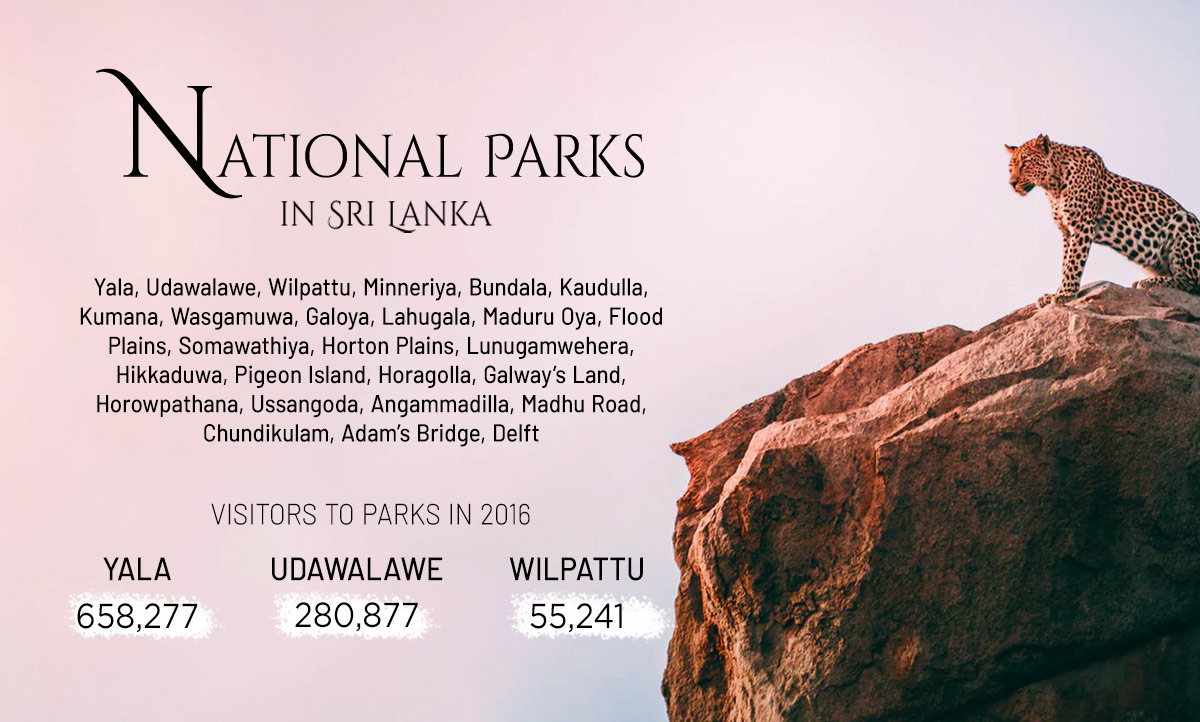 Source: Department of Wildlife Conservation
Voicing his opinion on this matter, Srilal believes that although it would be great to have it, it might be difficult to get the buy-in of all invested parties to develop more national parks for visitation. He points out that there are a number of groups who feel that certain parks must be retained in their pristine condition and not be promoted as tourist attractions. These groups believe that tourism activities have already destroyed parks such as Yala and Wilpattu, and that the same fate should not befall other parks as well.
While he believes that these concerns should not be ignored, Srilal also believes that we can differentiate and promote our wildlife tourism offering based on consumption, if we bring these other parks also into the mix. For example, local or foreign travellers who are merely looking to tick a box and capture a picture of an elephant or leopard can be channelled towards the more popular parks, where they have a better chance of a sighting. But both local and foreign visitors who are true wildlife enthusiasts, and who desire a more wholesome and natural experience can be channelled towards the alternative parks which would have fewer visitors and provide a more authentic wilderness experience.
Srilal believes that this differentiation of traveller type needs to be done by travel agents and tour operators. From the time the conversation to book a tour to Sri Lanka is initiated, the agent or operator can pose questions to the customer to determine what their motivations for visiting a park are. More hard-nosed wildlife enthusiasts can then be offered a different, more comprehensive safari experience, while bucket list chasing customers can be directed to the more commercialised parks.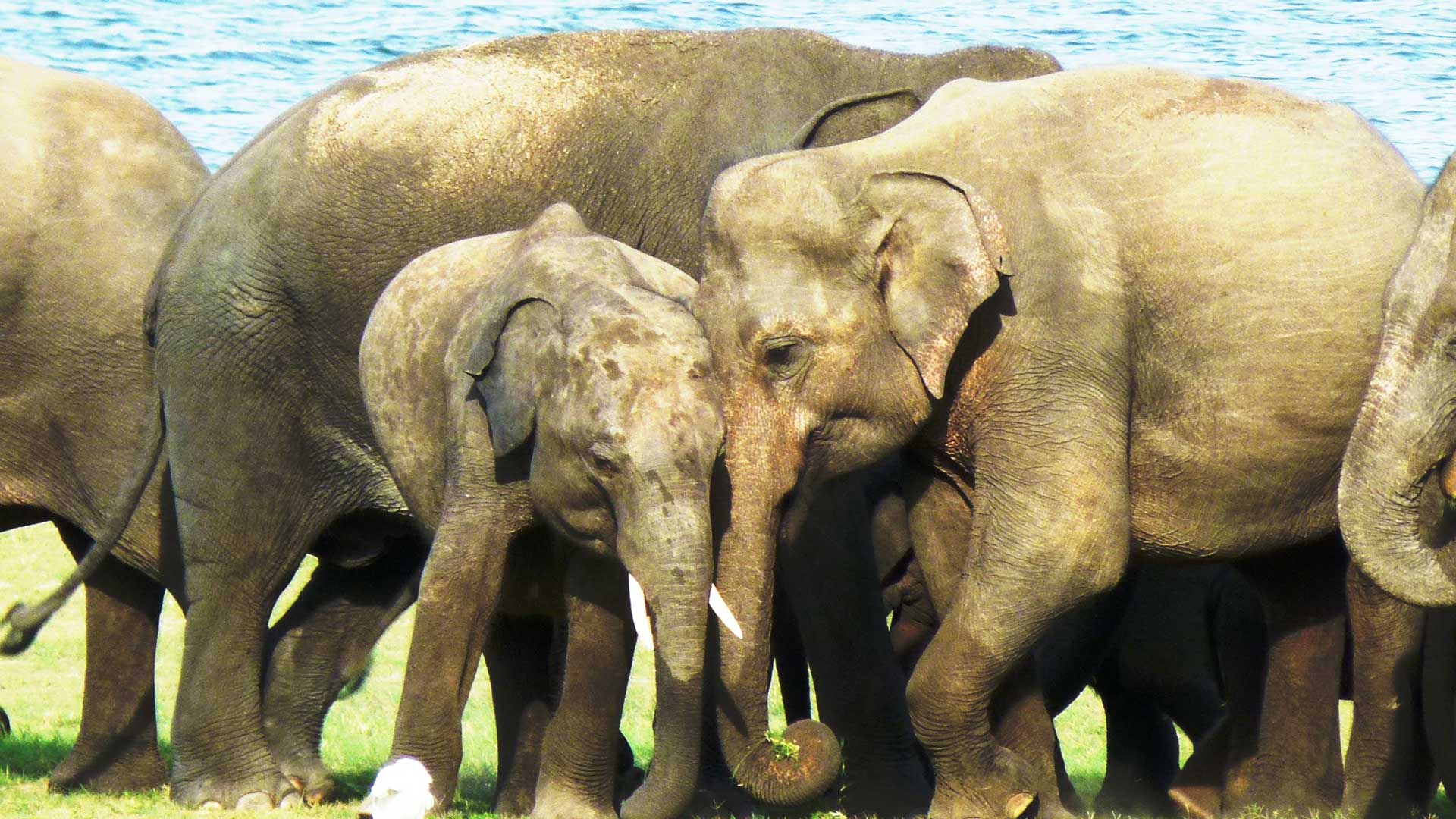 Image Credit: Srilal Miththapala
Guided Experiences – From Ordinary to Extraordinary
If we are to direct serious enthusiasts to other parks, we need to ensure that we have qualified and competent guides to enhance the experience. This rings true for the more commercialised parks as well. A comprehensive guided experience is far more fulfilling than simply driving around the park chasing after an animal sighting. There are increasingly more instances where foreign visitors can be seen sitting in a safari jeep, appearing to be bored by the experience, while they are driven around the park by an uninspired guide or driver. Occasionally they may stop near an animal and take some photographs, but for the most part, it seems like a tedious run around the park.
Adding Value to the Experience
According to Radheesh, a good guided experience can really add value and take a safari experience from ordinary to extraordinary. He believes that a good degree of scientific knowledge, experience, enthusiasm and interpersonal skills can help a guide transform a safari experience to another level. Using a storytelling approach, a guide can make the entire experience extremely interesting and interactive from the point of entry to the park, instead of coming to life only if a certain species of wildlife is spotted.
Srilal echoes these sentiments, drawing from a personal experience he had when visiting Costa Rica as part of a delegation a few years ago. He remembers how impressed he was with the guide assigned to his group when he visited some of the parks in Costa Rica. Not only did the guide have a degree in Zoology, but he returned to the university every year for a refresher course to upskill and stay up to date. This training, coupled with a great personality and good communication skills, resulted in an exciting and interesting wilderness experiences, even though the wildlife species were, in most instances, not as impressive as what we have back in Sri Lanka.
Srilal highlights the importance of training and developing specialised guides to create similar experiences at our national parks. He explains that most often it is a round-trip tour guide who accompanies travellers to a park, and these guides cannot be expected to be wildlife experts. They may know some details and be able to spot certain birds and animals, but they will not be able to engage visitors with interesting stories, special insights to animal behaviour or track specific species through the park.
Developing Resources
The guides employed by the Department of Wildlife Conservation should ideally be in a position to function in this capacity, however, the sad reality is that many of them are under trained, ill-equipped and underfunded. There is a general sense of apathy that is difficult to shake, and as is generally the case, not much can be done to change the situation. This is why it becomes the responsibility of the private sector to fill the gap with well-trained guides or rangers who can provide the kind of experience that can put Sri Lanka's wildlife tourism offering in the same league as Costa Rica or Australia.
Radheesh and the team at Leopard Trails stepped up to the plate and borrowed from the South African model to train rangers for the private sector. They consulted reputed training schools in South Africa, and together developed comprehensive training courses that were initially run free of charge for those who had an interest and aptitude for wildlife guiding. These programs still continue, in an effort to improve the knowledge and skills of local rangers.
As Srilal points out, a qualified and enthusiastic guide can not only help attract a high-value clientele for the industry, but the guides themselves can also earn an above average wage. There are plenty of visitors who are willing to spend a premium for a value added experience, we just need to be in a position to provide it.
Visitor Facilities – Getting the Basics Right
Anyone who has been to any of our island's national parks do not need to be told of the woefully inadequate facilities available to visitors. From almost a total lack of sanitation facilities, to a severe lack of park information, to run down park bungalows, the list is endless. If we are to attract high-value travellers, we need to provide at least the basic facilities one would come to expect of a tourist attraction. Proper sanitation facilities inside and outside the park are one of the simplest things that can help the situation. A well-equipped visitor information centre, with details on what to expect, information about the species found in the park and park maps go a long way in preparing visitors and engaging them in the experience.
Enhancing the Safari Experience
Radheesh believes that creating some additional designated experience spots such as picnic/BBQ areas, get-off points, restaurants, gift shops and hides (camouflaged shelters to observe wildlife in close proximity) can greatly elevate the safari experience and also fetch a premium price from visitors willing to pay for these facilities.
Srilal and Radheesh both lament at the state of the bungalows located within the park premises. These bungalows have plenty of potential to offer guests an extraordinary experience, if they are developed to a certain standard. Although state owned, the bungalows can be managed or funded by the private sector and maintained at different levels of facilities or amenities. While many of the bungalows can be made available to the public at standard rates, a more luxuriously decked out bungalow can easily fetch up to $1,000 per person according to Radheesh. This is a great revenue source for the parks, and can be used for park upkeep and conservation efforts.
Reserve Management – Sustaining Resources for Sustainable Tourism
Although the Department of Wildlife Conservation already engages in some reserve management initiatives, a much wider, well-funded approach is needed if Sri Lanka is to compete with the larger players in wildlife tourism.
Radheesh emphasizes the importance of paying attention to how we layout a national park so that it does not become congested on a busy day. A more well thought out access network consisting of more by roads, and more spaced out entry and exit points are some of the basic improvements needed. Right now, in most parks, the entry and exit points are the same, which means that visitors who may have made their way to the other end of the park need to speed back to the gate to exit at the designated time.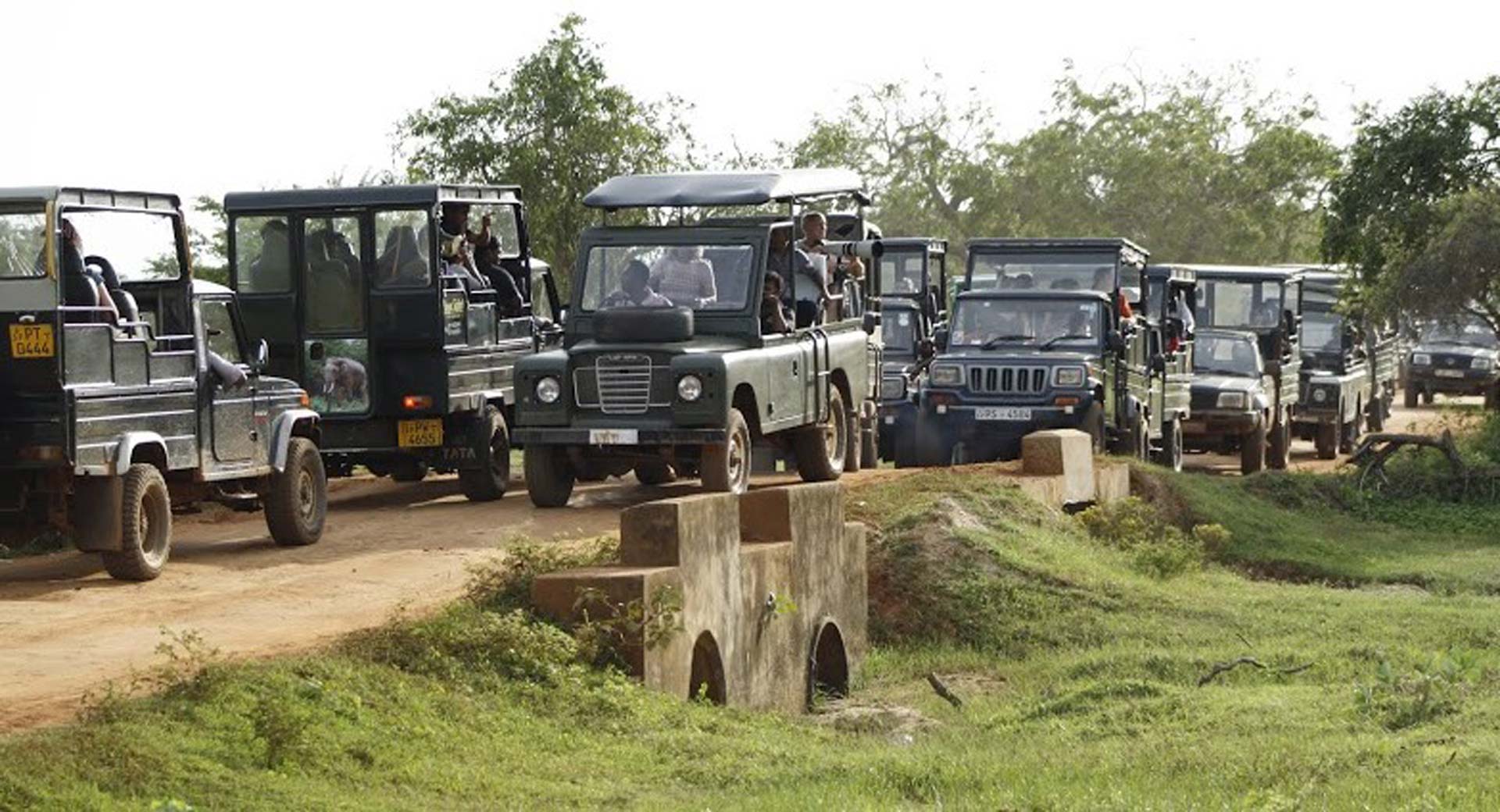 Image Credit: Srilal Miththapala
Lending a Helping Hand
Cutting and maintaining watering holes in a strategic manner can help the viewing experience, in addition to ensuring the animals have ample resources. The management of park ecology is also crucial to maintain sustainability. The clearing of invasive species such as Lantana (Ganda Pana) is vital as it is not edible by animals and it takes up large areas of the park. Replanting of certain vegetation has become important, especially in Udawalawe. As Srilal highlights, the elephant population of Udawalawe has all but eaten themselves out of the park. The situation has become so intense, that Dr. Prithiviraj Fernando has stated that the elephants are dying of starvation. There is a clear need for human intervention in the parks to manage the ecology, to ensure the survival of species.
The points discussed here are just a fragment of the developments and changes required to elevate Sri Lanka's wildlife tourism offering. We hope to continue these discussions, and bring you the opinions and insights of more tourism and wildlife enthusiasts, so that together, we can truly make a positive impact.