Fostering Resilience and Sustainability: Henry Fitch Speaks at Biodiversity Sri Lanka's Forum on Tourism Sustainability
The Sri Lanka Tourism Alliance was recently invited to share insights at Biodiversity Sri Lanka's '5th Annual Technical Sessions – Future in Tourism: Future in Nature' forum to promote the development of the country's tourism industry in a conscious, responsible and sustainable way.
Alliance Advisory Group member Henry Fitch spoke at the forum, highlighting some of the key areas that the country's tourism industry needs to focus on to become more sustainable.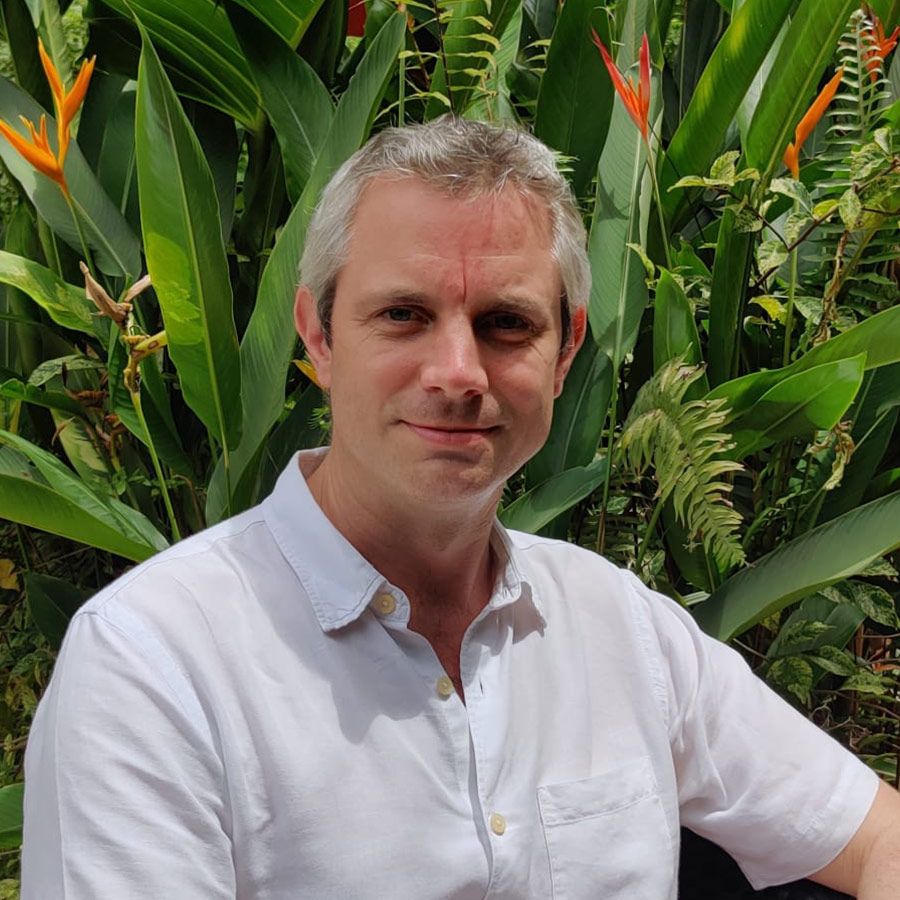 Henry is the Chief Executive Officer of Teardrop Hotels, an organisation that has prioritised sustainability from its inception. The company has seven hotels around Sri Lanka, employs 250 associates and where possible, works with local people and companies for the products, services and experiences it needs to operate. Teardrop is currently working towards receiving the globally recognised 'Travelife' sustainability accreditation and has used this quiet time to develop its environmental policy, human rights & child protection policies and green purchasing policy, as well as looking outside of the business to see how it can engage better with the local community and have a positive impact on the biodiversity in local areas.
The following is an extract of the insights shared by Henry at the event.
---
I believe that it is a widely accepted fact that, to date, Sri Lanka has placed far too much emphasis on visitor numbers instead of a co-ordinated and considered development of a strategic, sustainable tourism plan.
Much as I'm sure we all wish that Covid-19 had never happened, the heart-warming stories of the canals in Venice becoming cleaner, carbon emissions reducing and the Himalayan peaks being seen from further afield than before, have given us hope that some good will come from the pandemic.
There is also hope that governments and businesses will take this opportunity to re-set global tourism, and strive to leave a positive footprint on ecosystems, cultures, economies and communities around the world.
Here in Sri Lanka, the Tourism Industry has taken a battering over the past 18 months. With last year's Easter Attacks, followed closely by Covid-19, we have all had to tighten our belts and rely on the steely resilience Sri Lanka is so well known for. Never has there been a time when resilience and sustainability have been in such high demand.
COVID-19 and the Opportunity to Re-set
As hard as this period is, I believe that the current situation has also created an opportunity to re-set. There were already signs that tourism was broken – with overcrowding, ineffective visitor management, little product development and political interference, to name a few. The result of these issues on the National Parks and Cultural sites has been widely publicised.
So, how can we come out of these last 18 months stronger, better and more sustainable?
Firstly, we need to understand who we want as visitors to Sri Lanka. We also need to begin thinking about our customer, the traveller, and how they see Sri Lanka. We must be user oriented. This cuts across every element of the experience – from transport and connectivity, to ticketing, and to amenities and experiences.
High-Yield Tourists
Destinations like Thailand and Singapore, that we continuously pitch ourselves against – are all now moving towards a higher value, and higher yielding tourist. This is because high-volume tourism is unsustainable. It has lasting impacts on communities, people, the environment and businesses that do not truly benefit them in the long run.
Focusing on the Higher Value Traveller that embraces authenticity and sustainability, means that Sri Lanka and our industry can focus on what is mutually beneficial to both the destination and the traveller.
Data shows that these types of travellers spend more, stay longer, and care more about the destination. They are also more likely to return and recommend Sri Lanka to like-minded travellers who will respect the destination and our more sustainable approach.
Product Development
Secondly, we must focus on Product Development. I had an interesting chat with Shehan Ramanayake from Resplendent Ceylon recently about the need to differentiate and develop conservation-based tourism. At the moment, each National Park in the country provides a very similar experience which ultimately means that there's not much point in visiting several parks on a tour of Sri Lanka. This means that the offering, particularly if you don't manage to see what you were looking for, becomes mundane.
By encouraging creativity and off-the-beaten track experiences, as Resplendent Ceylon do with their support of the Leopard Conservation project, for example, there can be an educational experience that helps the conservation project whilst also creating a more experiential travel offering.
If, as a guest, you've helped fund or even set up a camera trap to help with the research of Leopards in the local area, there's a much higher propensity to return in years to come, to see how the project has developed.
If we are genuinely trying to position Sri Lanka as a nature-based tourism destination, we need the prime assets to be managed better, and we need public/private partnerships to be able to develop responsible experiences outside of the National Parks, in other wilderness areas, without the obstacles and red tape that is the norm.
This will help us flesh out incredible experiences, especially within nature-based offerings, and allow a lighter footprint by spreading the tourists more thinly around the island.
Strength in Unity
Finally, as an industry we must also realise that we should not be competing against each other. By working together, we will be stronger, leaner and more able to develop Sri Lanka into a destination that punches above its weight against the likes of Vietnam, Thailand and, from a safari point of view, Africa.
How Does the Tourism Alliance Walk the Talk?
We came together to create the Alliance to provide a platform for all stakeholders in the industry to come together and to work out practical, private sector driven solutions, in collaboration with the SLTDA and other Tourism bodies. We are here to support, not duplicate, what the other associations and Sri Lanka Tourism are doing.
The Alliance's priority is to provide free platforms and programs to help its industry members support each other and build capacity, resilience and sustainability via best practice industry insight sharing.
Our Love Sri Lanka Sustainability pillar focusses on supporting operators to lift industry sustainability practices, while providing event platforms to foster new product development and business opportunities. Additionally, our Love Sri Lanka Collaboration pillar encourages us to engage closely with stakeholders such as Biodiversity Sri Lanka to achieve the greatest impact for Sri Lanka's tourism sector.
Whether we're talking about large businesses or small, we all need to embrace and support sustainable tourism practices in order for Sri Lanka to outstep the global competition, otherwise it will become a race to the bottom.
I doubt there are many countries better placed to be able to become the most sustainable tourism destination in the world and I sincerely hope we can bring about the necessary changes to strive for this.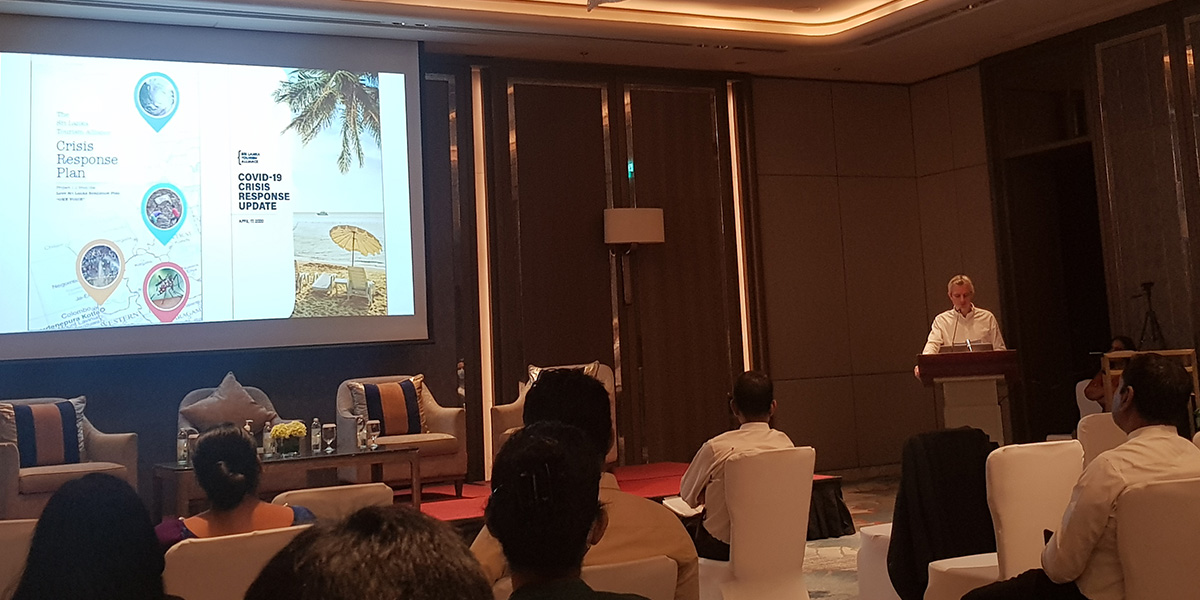 Henry addresses the gathering