Emerging Leaders Program – Supporting Tomorrow's Leaders in Tourism
Sri Lanka Tourism Alliance is committed to making Sri Lanka's tourism industry sustainable, resilient, and future-focused. The future sustainability of the industry depends on tomorrow's business leaders, so it is essential that as an industry, we focus on supporting visionary trailblazers in tourism.
The Sri Lanka Tourism Alliance's Emerging Leaders Program is a brilliant opportunity for ambitious, young tourism professionals with a strong future vision, to actively engage in strengthening Sri Lanka's tourism industry.
The Emerging Leaders Program hopes to:
Mentor the next generation of tourism leaders – The program will provide exciting opportunities to meet and learn from industry leaders here and overseas.
Engage industry more closely in the foundations of Tourism Alliance projects – all projects initiated by the Alliance focus on sustainable tourism industry outcomes, working collaboratively with the private sector. Through the Emerging Leaders Program, participants will have the opportunity to get involved in current projects and also work together with The Alliance to brainstorm new and exciting ideas which can help improve and strengthen Sri Lanka's tourism potential in the global market.
Build a sustainable and resilient future for Sri Lankan tourism – As an industry we can and must work towards building capacity within the local industry, to ensure Sri Lankan tourism remains a step-ahead of global travel trends and sustainability best practices.
The program kicked off in July 2021 with a group of 13 Alliance members representing a diverse mix of tourism brands including Teardrop Hotels, Anantara Hotels, Cinnamon Hotels, Jetwing, Resplendent Ceylon and Diethelm Travels.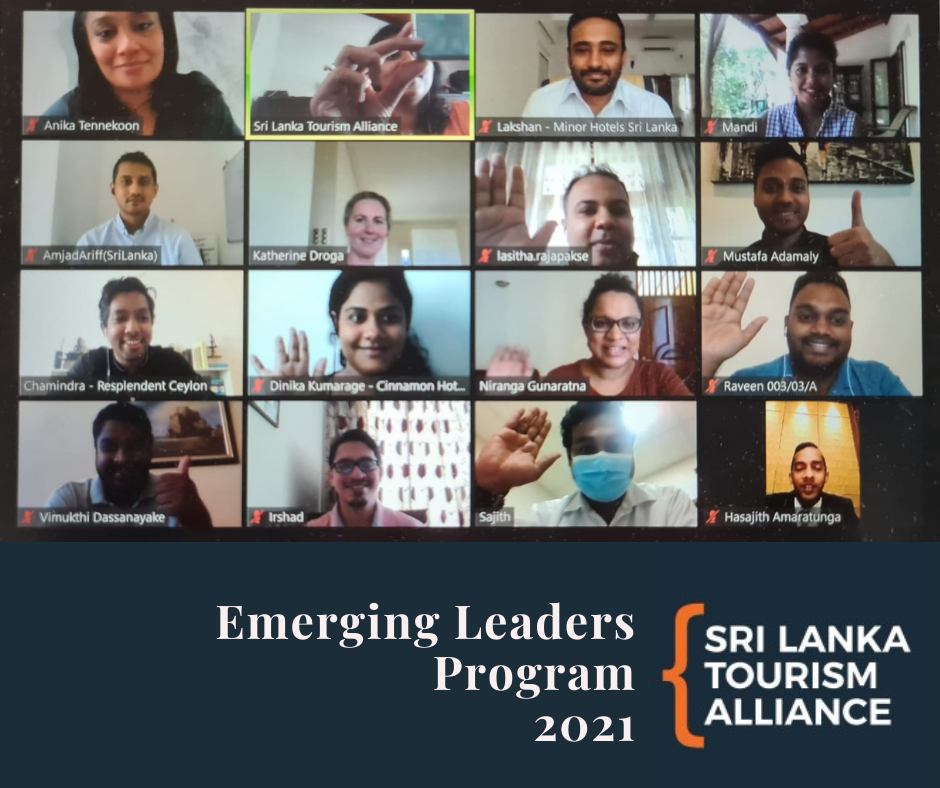 The 1st Emerging Leaders working meeting was held virtually on August 19, due to current COVID-19 restrictions with the group given the opportunity to learn more about the goals and upcoming projects of the Tourism Alliance.
Being a member of the Emerging Leaders Program will provide benefits including the opportunity to network with peers and work with like-minded individuals, to create a better future for tourism in Sri Lanka. The volunteer-based group will actively work towards meeting the outcomes of the Emerging Leaders Program whilst creating a fun and exciting learning environment for upcoming tourism trailblazers.
If you would like to find out about future opportunities to join the Alliance's Emerging Leaders Program please email us at welcome@srilankatourismalliance.com with your name and contact details.