How to Join the Alliance & Create a Member Account
Listed below are seven simple steps that you need to follow to create your Sri Lanka Tourism Alliance member account. Once you have submitted the required details, your information will be verified and you will receive an email from our membership team indicating the next steps.
Feel free to contact us via welcome@srilankatourismalliance.com should you have any queries.
The Alliance member account form can be found on the Join the Alliance page of the Sri Lanka Tourism Alliance website.

Step 1 – Select Your Title
Select the appropriate title from the options provided in the dropdown list.


Step 2 – Enter Your Details
Fill in your personal details, including your first and last name, email address, mobile number and the title of the current position you hold at your place of employment.

Step 3 – Select Business or Individual

You can join the Alliance as an individual member or you can join on behalf of your business, provided that you are an authorised representative of the organization.
Just select the appropriate option from the dropdown.

If you select the business option, you need to provide your company name. If your brand name is different from your company name, you can add that as well.


Step 4 – Select Tourism Business Category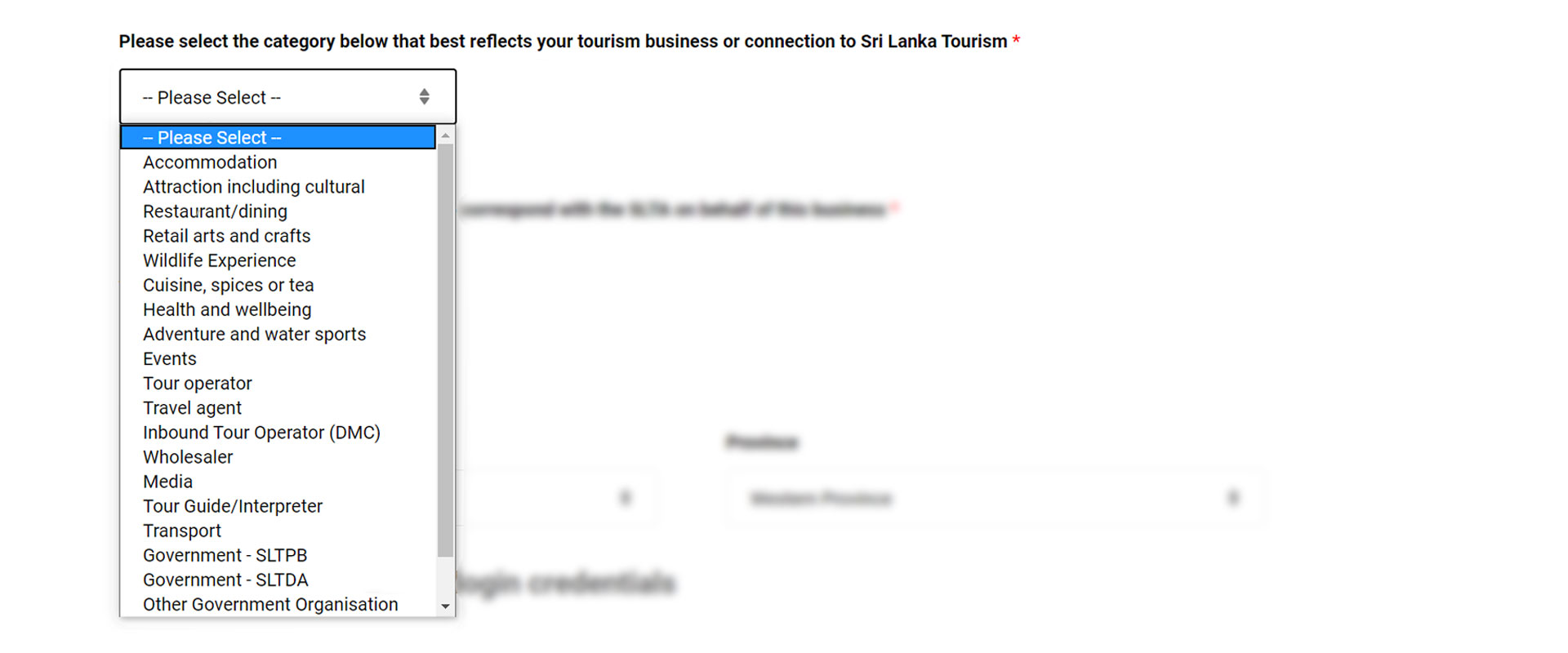 Select an option that best describes the nature of your involvement in the tourism industry from the dropdown selection provided. If you cannot find the relevant category in the options provided, please select other and specify your business category in the text box provided.

If you are submitting the member account application on behalf of your business, you need to check the box confirming you are authorised to correspond with the Alliance representing the business.

Business users need to provide information regarding their licence status. Select the appropriate option from the dropdown list.
Licensed businesses need to specify the license type.


Step 5 – Select Country Information

Individual and business users need to select country they are from. If you are from Sri Lanka, please specify which province.

Step 6 – Membership Login Credentials 

Select a username and password that you want to use to login to the membership portal of the Sri Lanka Tourism Alliance.
Username should only consist of alpha numeric values and no special characters (i.e. $,#,!). The username is only visible to you and is not your public profile name.
Please ensure that you create a strong password by using alpha numeric values and special characters. Passwords are case sensitive.

Upload the relevant picture/logo here. Business users need to upload a clear, JPG or PNG file of their company logo. Individual users need to upload a personal photograph of themselves. The maximum file size allowed is 10 MB.


Step 7 – Submit Form 

Once you have filled in all details, make sure to check the box which refers to the Privacy Policy and the Terms and Conditions. Then click on the submit button to complete the process.

Next Steps
After your details are submitted and verified, our membership team will be in touch regarding the next steps of your membership journey.
If you require further assistance, please contact Nishanthi Somaratne, Industry Engagement Manager of the Sri Lanka Tourism Alliance via welcome@srilankatourismalliance.com